Report of child's death in US raid in Yemen sparks anger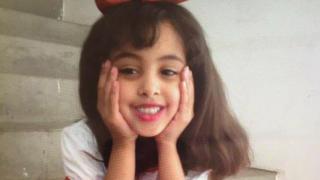 While Donald Trump's decision to restrict entry into the US for 90 days for citizens of seven predominantly Muslim countries has been the dominant topic of conversation online in Yemen - one of the affected nations - another event involving Americans has also sparked widespread anger.
On Saturday, US special forces carried out an operation in central Yemen targeting the house of a suspected leader of the jihadist group al-Qaeda in the Arabian Peninsula (AQAP). It was the first such raid authorised by the Trump administration.
US officials initially said an estimated 14 al-Qaeda militants were killed, as well as one Navy Seal commando.
But on Wednesday, they acknowledged that an investigation team had "concluded regrettably that civilian non-combatants were likely killed" too, adding that children might have been among the casualties.
Yemeni medics and officials had earlier said that at least 10 women and children were killed. But it was the locally-reported death of one particular individual - eight-year-old Nawar al-Awlaki - that provoked particular fury among Yemenis.
Her grandfather, Nasser al-Awlaki, told several news outlets that Nawar was shot in the neck during the raid. In an interview with the Guardian, he added that he did not believe the US special forces members had meant to kill his granddaughter.
Nawar's uncle, Ammar al-Awlaki, also wrote about upsetting details of how he said she had died in a Facebook post that was widely shared in Yemen.
The al-Qaeda connection
Nawar's father, Anwar al-Awlaki, was a Yemeni-American cleric and suspected senior al-Qaeda leader who was touted as a potential successor to Osama bin Laden before being killed in a US drone strike in 2011.
The strike was said to have been personally ordered by President Obama. Two weeks after the strike, his 16-year-old son Abdulrahman - also an American citizen - was killed by another US drone.
Some Yemenis on social media denounced the US, accusing it of targeting the Awlaki children because of their father's activities.
"Trump killed Nawar six years after Obama killed her brother... who was killed while eating dinner at an outdoor restaurant," read one Facebook post.
"Way to go America, keep making America great again."
---
More from BBC Trending
Visit the Trending Facebook page
---
The killing of Abdulrahman al-Awlaki drew international criticism, with some journalists claiming that he was not a member of the militant group and had no part of his father's activities - although this has never been verified.
Human rights groups, like the American Civil Liberties Union, raised questions as to why Abdulrahman al-Awlaki was killed. A US administration official speaking on condition of anonymity to the Washington Post described Abdulrahman al-Awlaki as a bystander who was "in the wrong place at the wrong time".
President Obama was asked by Mother Jones magazine journalist Nick Baumann during a Reddit AMA in 2012 what he had thought about the teen's death. The question received hundreds of votes from Redditors, yet remained unanswered.
Now, there similar criticism over the reported killing of eight-year-old Nawar. Photos said to be of her lifeless body have been shared widely online.
"Why kill children? This is the new [US] administration - it's very sad, a big crime," her grandfather told local media.
War, famine and visa bans
Nawar's death comes as a war in Yemen between the government, backed by a Saudi-led coalition, and the Houthi rebel movement enters its third year. The UN says more than 10,000 people have been killed and that 21 million are in need of some kind of humanitarian assistance.
While Nawar's death was a leading topic of conversation among Yemenis on social media, the travel ban did not escape notice.
"I would rather have a 100 bans then to have this happen again," wrote one Facebook user.
Propaganda boost
The think tank International Crisis Group (ICG) said in a report on Thursday that the US raid may have given AQAP a propaganda boost, playing into the militant group's "narrative of defending Muslims against the West" and potentially increasing "anti-US sentiment".
Pentagon spokesman Capt Jeff Davis told reporters that the operation "was specifically to enable us to gather the information we needed to be able to map out this group better, and to prevent future foreign terrorist attacks."
Western intelligence agencies consider AQAP the most dangerous branch of al-Qaeda because of its technical expertise and global reach.
Next story: No... it's not Trump's brother
So then who is this a picture of? READ MORE
You can follow BBC Trending on Twitter @BBCtrending, and find us on Facebook. All our stories are at bbc.com/trending.