Trump supporters slam Super Bowl ads that celebrate immigrants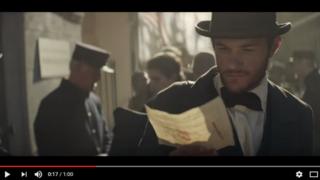 Politically charged adverts broadcast on US television during Sunday's Super Bowl prompted calls for boycotts of some of the products featured.
Usually it's the job of the Super Bowl halftime act to cause controversy - think back to last year and Beyonce's Black Panthers, or Janet Jackson's "wardrobe malfunction" in 2004. This year however, as Lady Gaga turned in a performance that BBC Music called "fairly restrained... by her standards", it was the advertisements broadcast on Fox during breaks in the action which prompted outrage and counter-outrage on social media.
---
More from BBC Trending
Visit the Trending Facebook page
---
The biggest stir was caused by one of America's biggest brands. Budweiser's minute-long advert told the (heavily truncated and dramatised) story of co-founder Adolphus Busch's journey from Germany to the United States.
After an arduous journey, Busch is greeted by shouts of "you're not wanted here, go back home!" He narrowly avoids a fire, slogs through mud, and finally finds a warm welcome in St Louis where a stranger - his later business partner Eberhard Anheuser - buys him a drink.
The advert prompted an immediate response by conservatives who interpreted it as a pro-immigration rebuke to President Donald Trump. The hashtag #BoycottBudweiser began trending and, along with a misspelled version ("#BoycottBudwiser"), was mentioned in about 75,000 tweets.
All you need to know on Lady Gaga's show
There was also, perhaps predictably, a reaction against the boycott call from Trump opponents.
Although Anheuser-Busch is actually owned by a Belgian brewing conglomerate, its Budweiser brands are among America's most iconic exports. Last year, the beer - which regularly features patriotic images on its cans and bottles - was temporarily renamed "America".
But the company tried to play down the political meaning of the Super Bowl clip, the Washington Post reported, saying that the advert had been in the works for nearly a year.
---
More on the Super Bowl from the BBC
---
There was no such wiggle room for 84 Lumber, a Pennsylvania construction supply company which also put out an immigration-themed mini-epic in its Super Bowl slot. The company's ad features a mother and daughter travelling from an unnamed Latin American country. Along the way they hitch a ride on the back of a truck, hop a train and encounter all sorts of bad weather.
A version of the ad reportedly rejected by Fox showed the pair confronted by a large wall, and eventually finding a wooden gate to get through it. The company posted an extended version - nearly six minutes long - including the wall shots online.
The company was mentioned more than 80,000 times on Twitter during the big game.
"I won't be shopping at 84 Lumber again. Too bad. Was great place. Adios," wrote one Trump supporter. Another tweeted: "Glad to see 84 lumber encouraging illegals to break our laws & sneak into our country. Forgot to include the cartel smugglers tho."
Meanwhile an avowed Democrat retorted: "That awkward moment when a lumber company understands the essence of America more than its president. Way to go 84 Lumber!"
The owner of 84 Lumber, Maggie Hardy Magerko, has said that she voted for Trump in November's election. The advertising executive behind the spot told Adweek that Magerko never wavered in the message she wanted to send with the advert.
"For Maggie, it's never been about the wall," said Rob Schapiro of Brunner. "It's always been about the door in the wall."
Blog by Mike Wendling
You can follow BBC Trending on Twitter @BBCtrending, and find us on Facebook. All our stories are at bbc.com/trending.
Next story: Despite rumours, no evidence of 'paedophile ring' on YouTube
The allegations are shocking - a paedophile ring openly operating on YouTube. But the reality is much more complicated. READ MORE
You can follow BBC Trending on Twitter @BBCtrending, and find us on Facebook. All our stories are at bbc.com/trending.