Nato says viral news outlet is part of "Kremlin misinformation machine"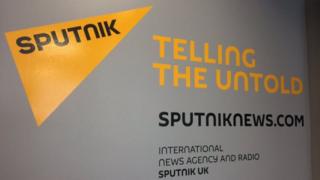 In the world of viral news, it's a relative baby - but it's already become so controversial that a Nato spokesperson told BBC Trending that Sputnik is an agent of Russian misinformation.
Sputnik was set up in 2014 and puts out podcasts, radio shows and text stories which are shared thousands of times a day on Twitter and Facebook. It's recently been adding international bureaux, including a UK headquarters in Scotland.
But at the same time Sputnik has also been on the receiving end of criticism - by US intelligence agencies, the British defence secretary, and now by Nato, who says it is part of a "Kremlin misinformation machine."
---
More from BBC Trending
Visit the Trending Facebook page
---
"Outlets like Sputnik are part of a Kremlin propaganda machine which are trying to use information for political and military needs," Nato spokesperson Oana Lungescu told BBC Trending. "It is a way, not to convince people, but to confuse them, not to provide an alternative viewpoint, but to divide public opinions and to ultimately undermine our ability to understand what is going on and therefore take decisions if decisions need to be made."
Sputnik strongly denies the claims.
"It's extremely unfair but we've been on the receiving end of other similar accusations in the past, without any substantive evidence being provided," says Nikolai Gorshkov, Sputnik's UK editor. "We prefer to leave those inclined towards this kind of conspiratorial thinking to it."
So what's the truth about Sputnik?
Many stories on Sputnik, whose motto is "Telling the Untold", are news items. Like other international broadcasters, it sees itself as a gift to the world to diversify the media diet - in this case, funded by the Russian government.
But Western officials and outside observers say that Sputnik follows an anti-West, pro-Russia, pro-Trump line in its selection of stories, in the way it frames them, and its choice of commentary. On Friday evening, for instance, Sputnik's top story was headlined "Americans 'Don't Buy' Media Criticism of Trump Following Years of Pro-Obama Bias".
A recent US intelligence report on alleged Russian interference in the American election described the editorial line of Sputnik and the TV station RT, which like Sputnik is funded by the Russian government-owned news agency Rossiya Segodnya. "RT and Sputnik consistently cast President-elect Trump as the target of unfair coverage from traditional US media outlets that they claimed were subservient to a corrupt political establishment," the report said.
"The question of balance is really important - particularly if you're a public service broadcaster," says Ben Nimmo, a research fellow at the Atlantic Council, an international affairs think tank based in Washington DC. "Balance is where so much of the time I see Sputnik falling down. It will quote one side but it won't give an appropriate screen time, column inches or airtime to the other side and that's the big difference."
Nimmo and others suggest that Sputnik's UK base in Edinburgh - rather than London, where most international media companies set up shop - is an attempt to encourage Scottish independence and stoke up discontent towards the British government.
That's just not true, according to Sputnik themselves. Gorshkov says the reason for the Scottish base is more pragmatic. He cites the high cost of property prices in London and says he'd rather invest in journalists.
"We're not trying to influence Scottish thinking, because being based in Edinburgh, we do now realise how fiercely independently minded the Scots are," he says. "You can't influence a Scot."
---
Trending radio
Hear this story in full on the BBC World Service, or download our podcast
---
In addition to its news coverage, Sputnik's sharply opinionated blogs have also been the subject of criticism.
"If you look at the byline of people who write commentaries for Sputnik or RT, a lot of them are extremely obscure individuals connected to the far right or the far left, or so-called specialists or experts who nobody's heard of," says Lungescu, the Nato spokesperson. "You can always find somebody to say anything, but that doesn't make it journalism."
One of the bloggers heavily featured on the site, Angus Gallagher, specialises in pro-Russia, pro-Donald Trump pieces sharply critical of the West, with headlines such as "7 ways the EU-NATO Axis is Sabotaging Western Civilisation" and "Sacrificed for the EU-NATO Axis: Europe's Women Branded Whores and Liars". The latter article accuses Western think tanks of conspiring to play down reports of sex attacks by migrants, in an anti-Russian plot.
Ammon Cheskin, a professor in Central and Eastern European studies at Glasgow University, says the posts are typical of the "paranoid perspective" of commentators on the site.
"No one is quite sure who this individual is or if he actually exists," he says.
But Sputnik's UK editor Gorshkov told us that bloggers, including Gallagher, aren't members of staff, but rather are volunteers who use the Sputnik platform to write their opinion pieces. He says he's never met Gallagher and doesn't oversee the blogs section of the website. But he insisted that he is indeed a real person.
"He reflects the views of a good chunk of the audience," Gorshkov says. BBC Trending left Facebook messages left for Gallagher himself, but they went unanswered.
The Russian embassy in London denied the accusations that the Kremlin is behind a misinformation machine.
"In our view, the claims of perceived 'Russian misinformation campaign to undermine the West' are a way to avoid an open and reasoned debate of the issues raised in British and American societies," the embassy press office wrote in an email. "Obviously, sticking labels of 'fake news' and 'misinformation' testifies to the lack of [a] positive agenda."
Gorshkov says the criticisms against Sputnik have cascaded down from governments and think tanks because the establishment in Western countries feels threatened.
"They don't like the emergency of a mass media outlet which is giving more context, more background, more angles to stories. They probably think it's a threat to their view of the world," he says.
And he hopes that Sputnik will reach Westerners disaffected by the mainstream media.
"Are they all Russian stooges who voted for Brexit or for Trump? Are they all useful idiots? That's really preposterous," he says. "I think that's really an offence against them, all those millions."
Blog by Mike Wendling
Additional reporting by Will Yates
You can follow BBC Trending on Twitter @BBCtrending, and find us on Facebook. All our stories are at bbc.com/trending.
Next story: The alt-right's war on Netflix and Trump court memes
Why are some followers of the alt-right cancelling their Netflix accounts? READ MORE
You can follow BBC Trending on Twitter @BBCtrending, and find us on Facebook. All our stories are at bbc.com/trending.