Trump dress at Grammys and Ivanka's stuff turned on head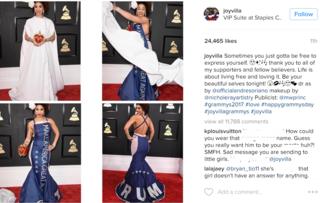 Donald Trump's voters rally behind singer Joy Villa's make America Great Again outfit at the Grammy Awards and a link that urges you to buy Ivanka Trump's products is not exactly what it seems.
Make Grammys great again
The Grammys red carpet in the liberal heartland of Los Angeles might be the last spot you would expect to see US President Donald Trump's famous campaign slogan. But viewers were treated to a surprise last night after singer-songwriter Joy Villa unveiled a dress emblazoned with his campaign catchphrase 'Make America Great Again'.
Villa, 25, who describes herself as a vegan and a feminist, initially stepped on the red carpet covered in a white gown, before revealing to photographers her red, white and blue outfit with a giant Trump splash on its back.
Writing on her Instagram account after the awards ceremony, Villa said: "Sometimes you just gotta be free to express yourself... Life is about living free and loving it."
The dress was designed by Filipino-born Andre Soriano, who called it a "tribute" to President Trump.
Astonished by her dress choice, Mr Trump's voters on social media praised her "courage" and urged one another to buy her records.
Young conservative host Tomi Lahren said Villa's dress was certain to upset what she described as "snowflakes" in California.
Villa later thanked her fans for helping her 2014 album I Make the Static rise in the iTunes top albums chart.
Predictably, opponents of Mr Trump were not as supportive.
One Twitter user said Mr Trump had paid Villa to wear that dress.
And Villa's stage name in her Wikipedia page was altered to "princess Trump trash".
---
Go buy women-made stuff
When a senior aide to President Trump encouraged people to buy Ivanka Trump's products, #GoBuyIvankasStuff became a popular trend on social media. But a man from Texas has now turned the hashtag on its head with a fascinating idea.
After US luxury retailer Nordstrom announced last week it was dropping Ivanka's clothing line due to poor sales, Mr Trump's aide Kellyanne Conway told Fox News: "Go buy Ivanka's stuff."
Ms Conway's pronouncement attracted criticism from some who thought it was not appropriate for a White House employee to endorse commercial products. Mr Trump and his supporters, however, believed Nordstrom's decision was motivated by politics rather than business.
Amid the media storm, David Burrows, an entrepreneur from Dallas, acquired the domain name GoBuyIvankasStuff.com.
The only catch is, once you type the domain name in your address bar, you are redirected to globalgirlfriend.com.
Established in 2003, the website says it works with "100 women's artisan organisations in over 30 countries" to offer "women-made, fair trade" products. Its range of products include womenswear, bags, jewellery and body care.
Neat. But has Ivanka herself typed in the URL in her browser?
---
Indian politician's pangram challenge
A well-known Indian MP has challenged his followers on social media to break the record for the shortest possible pangram in English, and he thinks there is a new winner.
A pangram is a sentence that uses every single letter in a language's alphabet. "The quick brown fox jumps over the lazy dog" with 32 letters is one of the best known pangrams in English.
Shashi Tharoor, a member of the Indian National Congress and former UN official, may be best known in the UK for his rousing speech during an Oxford Union debate in 2015 about a motion on whether Britain owes reparations to its former colonies.
Mr Tharoor, 60, asked millions of his followers on Facebook and Twitter yesterday to come up with a pangram shorter than 32 letters. He suggested two himself: "Pack my box with five dozen liquor jugs" and "How quickly daft jumping zebras vex"; with 31 and 30 letters respectively.
But there are simpler answers too.
"Replace 'the lazy' with 'a lazy', it becomes 30," tweeted one. Easy.
And the winner? "Sphinx of black quartz, judge my vow", that's 29. Nice work.
---
UK Pun Day
Today is "UK Pun Day", and over 10,000 puns have been appearing on social media by people attempting to forget the boredom of a Monday morning by channelling their inner creativity.
Since we know you don't have time for such banal proceedings, we have handpicked the best puns of the day so you won't have to. Enjoy!