Make Somalia Great Again gift, and 'day of action' for UK migrants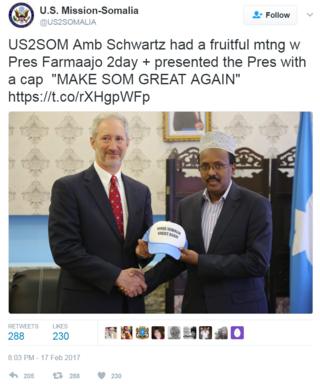 The newly-elected president of Somalia has received a unique present from the US ambassador, and migrant workers in the UK take a day off to participate in a nationwide campaign.
Make Somalia, not America, Great Again
US President Donald Trump's ubiquitous Make America Great Again cap has now made inroads into Somalia, but in a slightly unusual fashion.
Stephen Schwartz, the US ambassador to Somalia, recently met President Mohamed Abdullahi "Farmajo" Mohamed in the capital Mogadishu.
Mr Mohamed, a dual citizen of Somalia and the US, was elected by MPs as the new president of the war-torn African nation in early February.
So Mr Schwartz, who was appointed as the first US envoy to Somalia in 25 years in June last year, held a meeting with Mr Mohamed to solidify ties with the new administration.
But thanks to the power of social media, it has come to light that there was more to the meeting that met the eye.
A picture taken from the meeting and tweeted by the US Mission in Somalia made it clear that the US ambassador had presented a gift to Mr Mohamed - a Make Somalia Great Again white and blue cap, matching the colours of the Somali flag.
Needless to say, the cap is highly reminiscent of the Make America Great Again red cap made popular by President Trump during his campaign last year.
There is only one drawback. Somalia is one of the nations included in Mr Trump's executive order that put a temporary halt on immigration from seven majority Muslim countries. The ban was later suspended by a court ruling.
President Mohamed said earlier this month that he would hold discussions with the White House to have his country removed from the list.
"It is part of my responsibility to talk about this issue with the US government by conveying our message to the president and his government that the Somali people are really good, hard working people," he was quoted as saying.
"They raise their families in the United States. So we will see if he can change that policy and exclude Somalis from that list."
Regardless, Mr Mohamed described his meeting with the US ambassador as "very productive".
Predictably, there were people on social media who initially wondered whether the official Twitter page of the US Mission was a parody account, or the meeting was a setup.
Another user pointed out that Mr Schwartz was born in Buffalo, New York; where Mr Mohamed spent most of his time when he resided in the US.
---
UK migrants in nationwide walkout
Some migrant workers in different parts of the UK are taking time off work today to stage a day of action to showcase their contributions to the UK economy.
The nationwide campaign, known as One Day Without Us, follows on from the Day Without Immigrants protests which took place in the United States last week.
#1DayWithoutUS has been one of the top trends in the UK today, generating more than 32,000 tweets. Some have been sharing photos from gatherings in their town and cities.
Organisers say they are "ordinary people from all walks of life" and "include Leavers and Remainers".
London Mayor Sadiq Khan is one of the most high-profile politicians declaring support for the campaign.
Earlier, he tweeted: "To the one million European citizens living and working in London: thank you for the huge contribution you make to our city."
Migrants had been urged to bring the flags of their home countries to rallies in order to highlight the diversity of foreign nationals who work in Britain.
Some used the hashtag to share stories about how they or their parents first came to the UK.
However, others used the occasion to draw attention to some of the complexities around the issue of migration.
"If they don't like it here they should go somewhere more acceptable to them," tweeted one user.
Referring to a piece about the UK being the "third most traffic-congested" country in Europe, editor-in-chief of Breitbart News London Raheem Kassam tweeted: "But it's definitely nothing to do with infrastructure not being equipped for mass migration, right?"
By the UGC and Social Media Team