Russia's anti-fake news site mocked online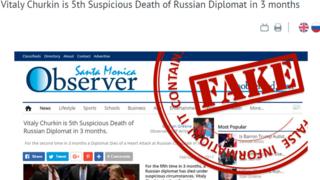 Russia's foreign ministry has launched a website to debunk fake news, but some social media users critical of the government are unimpressed by its lack of evidence.
Moscow has itself often been accused of using propaganda and false information, especially in state media reporting on the conflict in Ukraine and its alleged attempts to influence the US presidential election.
But Russia also says it's been the subject of false reports. On Monday the foreign ministry began posting stories it considers fake to a special section of its website, headlined "Examples of publications, retranslating false information about Russia".
Ministry spokeswoman Maria Zakharova said the site would collect "fake news of leading western media", and provide primary sources and facts countering them.
However, it currently contains nothing but screenshots of news items with a big red "fake news" stamp, a link to the original story, and, in each case, the words "This article puts forward information that does not correspond to reality."
Among the first stories posted on the site on Monday was an article by Bloomberg about accusations by liberal French presidential candidate Emmanuel Macron that he is being targeted by Kremlin hackers and fake news stories.
There is also a link to a Daily Telegraph story about allegations that Russia plotted to overthrow the Montenegrin government, a report which several Russian officials denounced:
---
More from BBC Trending
Visit the Trending Facebook page
---
The foreign ministry site doesn't explain what is allegedly wrong in each of the stories, and many social media users have been struck by the basic approach. Most dedicated fact-checking sites, such as Snopes and Politifact, dissect suspect stories in detail before reaching a verdict.
"We at [the foreign ministry] have invented the fastest way to debunk 'fake' news, we just say it's fake without proving it," says the Soviet Sergey Twitter account, which parodies Russian Foreign Minister Sergei Lavrov.
"Use a thing to fight the same thing. Like some kind of homeopathy," joked the Canada-based Russian Twitter account Grey Cardinal.
The lack of sophistication also seems at odds with the Kremlin's reputation for being a master of disinformation and media warfare.
The English-language daily Moscow Times compares the foreign ministry's effort to a playground argument. It tweeted: "'No YOU'RE fake news,' Russian foreign ministry screams at reporters in big bold red letters".
"The Russian foreign ministry has decided not only to produce fakes, but 'fight' them," remarked the Ukraine-based website Stop Fake.
Stop Fake was set up in 2014, at the time of the annexation of Crimea by Russia, to "refute disinformation and propaganda about events in Ukraine".
It is now one of several projects that seek to debunk what it calls misinformation coming from the Kremlin. Another similar initiative is sponsored by the EU.
Some on Twitter - such as New York Times reporter Ivan Nechepurenko - archly wondered whether the Russian foreign ministry's site would host fake news from Russian state media.
Otherwise, adds one Twitter user, "it's just more he said/she said".
Next story: Transgender dolls and all that Jazz
A new toy billed as the world's "first transgender doll" has created a buzz on social media. READ MORE
You can follow BBC Trending on Twitter @BBCtrending, and find us on Facebook. All our stories are at bbc.com/trending.