'Ready for honesty?' An anonymous message site takes off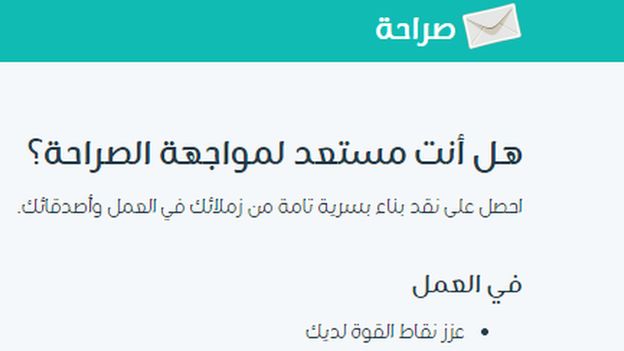 "Are you ready for honesty? Get constructive criticism from friends and colleagues, in total anonymity."
That's the promise of a new messaging service that has exploded in popularity across the Arab world.
Sarahah is named after the Arabic word for "honesty" and allows users to send and receive messages anonymously from people in their social networks.
It was created by a Saudi programmer, Zain al-Abidin Tawfiq, who says the site has garnered more than 270 million views and 20 million users in just a few weeks. Internet stats firm Alexa says the site is already one of the most popular in Egypt. It has nearly 2.5 million Egyptian users, according to Al Jazeera, along with 1.7 million in Tunisia, 1.2 million in Saudi Arabia, and sizeable followings in Syria and Kuwait.
The popularity of the site, which launched in early February, has spilled over to less anonymous social networks, where users shared screenshots from the messages they received on Sarahah. The messages include confessions of romantic attraction, scathing remarks on people's personalities, and declarations of homosexuality.
There has also been an active online debate about the site.
One Twitter user, Omar Ashraf, put the appeal of Sarahah down to hypocrisy: "We have to hide behind anonymity to be honest with each other," he tweeted.
But another tweeter, Joseph Alfred, was touched by the notes being swapped: "I wish people who have sent sincere messages could make themselves known, so we could recognise their value in our lives."
Tawfiq, the developer, said that he had the business market in mind when he first created the website. He noticed that company employees had difficulty giving their bosses feedback.
"There are several obstacles [to open discussion] such as differences in age or rank, so in some cases anonymity makes presenting criticism more comfortable," he told Al Jazeera.
Tawfiq said that though he "did not at all" expect the website to become so popular so quickly, he was happy with how things have turned out so far.
Blog by Nada Rashwan, BBC Monitoring
Russia's foreign ministry has launched a website to debunk fake news, but some social media users critical of the government are unimpressed by its lack of evidence. READ MORE