Video of smoking iPhone 7 goes viral, and Depeche Mode rejects alt-right ties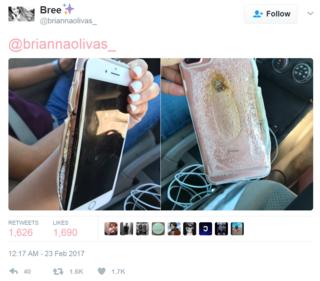 ---
Viral video of a smoking iPhone 7 raises Samsung Note 7 spectre, and Depeche Mode rejects a claim it is the "official band of the alt-right".
Et tu, Apple?
The video of a burning iPhone 7 Plus is raising questions about the safety of the iconic Apple smartphone.
The 21-second video was shared on Wednesday by Brianna Olivas, 18, from Tuscon, Arizona. In it, smoke can be seen coming out of the left side of the phone with the bezel and case both melting.
The clip has so far been viewed more than one million times and clocked up 24,000 retweets and 26,000 likes.
Photos taken after the incident by Ms Olivas reveal the phone's screen detached from the battery with a completely melted side bezel.
She explained later on Twitter that she was asleep while her device caught fire and her boyfriend moved it away from her.
Ms Olivas told the BBC: "I realized there was a problem a day before it blew up. It would not turn [on] so I took it into a store and they were able to get the phone on and they ran diagnostics and said nothing was wrong with the phone."
She said the phone, which she had bought in early January, was on the bed next to her head. Her boyfriend moved the phone to the dresser, before noticing something was wrong.
"From the corner of his eye he saw the phone smoking and heard a squealing noise coming from it. He quickly ran over to the phone but by the time he got there it had already caught fire, he didn't have enough time to throw it out the front door so he quickly threw it in the restroom."
Ms Olivas added that Apple has replaced her phone and the case. "They said they had never seen anything like this before."
Back in December last year eight cases of iPhone 6 combustions were reported in China. Apple said the battery explosions were caused by "external factors" and there was no "cause for concern".
Although the cause of the new incident is yet to be known, there is no indication that there is a widespread problem with iPhone handsets.
A spokesperson told Mashable that the firm was "looking into it".
The Apple Support account seemed to be aware of the video and got in touch with Ms Olivas. There were other users who reported similar cases of their phones "blowing up", although none of these claims can be verified.
The clip has left some people wondering whether Apple is about to plunge into the same difficulties Samsung experienced when it discontinued its flagship phablet Galaxy Note 7 over repeated cases of exploding batteries, including a handset deemed safe by Samsung which caught fire on a Southwest Airlines plane.
The recall reportedly cost the South Korean giant £4.3bn ($5.3bn) and damaged the company's reputation.
---
Is Depeche Mode the alt-right's 'official band'?
Depeche Mode has had to distance itself from the alt-right after one of the movement's leaders described the group as "the official band of the alt-right".
Alt-right figurehead Richard Spencer was expelled from the Conservative Political Action Conference (CPAC) yesterday over allegations that the alt-right is "racist" and "anti-Semitic". He had previously noted that the movement wanted to "expand white privilege and deepen it".
A clip of Mr Spencer shouting "Hail Trump, hail our people, hail victory!" to alt-right supporters who greet him with Nazi salutes was widely shared after the US presidential election and led to Mr Trump disavowing the movement.
New York Magazine's correspondent Olivia Nuzzi reported that Mr Spencer had cited the band when asked if he liked rock music.
Mr Spencer's words prompted some fans of the band to call for an explanation.
"Please disavow this before I have to go burn my CDs," tweeted one user.
A representative of the band told Esquire Magazine that any association between the group and the alt-right was "pretty ridiculous".
"Depeche Mode has no ties to Richard Spencer or the alt-right and does not support the alt-right movement."
Mr Spencer later proclaimed that he is a "lifelong" Depeche Mode fan, before clarifying he was "joking" about the group being related to the alt-right.
Some fans directed Spencer to listen to the band's hit "People are People", which includes the lyrics: "I can't understand/What makes a man/Hate another man/Help me understand."
---
Magicians to perform midnight 'spell' on Trump
A group of self-proclaimed magicians are planning to congregate outside the Trump Tower in New York at midnight tonight to "cast a binding spell" on the president.
According to a piece written by Michael Hughes on Extra Newsfeed which has been making the rounds on social media, the ritual is to be performed "at midnight on every waning crescent moon until he is removed from office".
Mr Hughes, from Baltimore, describes himself as a writer, speaker and "magical thinker".
The document calls on fellow magicians to bring in a photo of the president, candles with Donald J Trump written on them, pins, small bowls of water and salt, feather, matches and ashtray to the event.
The ritual apparently consists of jumping up and down, clapping and stomping.
So what is the point of all of this?
"The originators and I had been discussing this project for a while, and we decided that since I was a public figure who writes and speaks about magic, I would be the perfect person to release it into the wider world," says Mr Hughes.
"Binding, which seeks to restrain someone from doing harm, is differentiated from cursing or hexing, which is meant to inflict harm on the target(s). It is understood, in this context, that binding does not generate the potential negative blowback from cursing/hexing/crossing, nor does it harm the caster's karma."
Mr Hughes told the BBC he couldn't "keep up with all the people emailing me or posting on Facebook".
"In Baltimore we're having around 100 gathering tonight."
Does he genuinely believe in magic?
"I believe in magic. I've seen it work. And with so many people energising together in a concentration of mass consciousness, it is already working.
"It is a form of mass exorcism, as we purge his incessant, oppressive image and the steady stream of horrifying news from our minds through a massive group ritual."
And there are people who are taking this ritual seriously. There is now a Facebook group dedicated to it, and some are inviting magicians from around the world to join in.
So is social media on board?
For one, singer Lana Del Rey seems to be.
But there are some not entirely happy with the ritual.
A group calling itself "The Christian Nationalist Alliance" has declared "days of prayer in opposition to witchcraft".