The Indian viral video that empowers women and the Oscars' Muslim-designed dress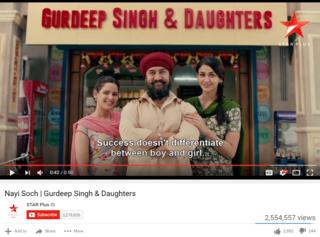 A female director sports a dress designed by a Muslim at the Oscars, an online funding campaign for Singaporean woman exceeds target amid deportation controversy and a viral video empowering women in India.
India's 'sweet' campaign for women
A video promoting women's empowerment has gone viral in India, racking up over 2.5 million views in 48 hours.
The clip, titled Nayi Soch (New thinking) was broadcast by the Hindi language Star Plus television channel.
It features prominent Indian actor Aamir Khan as fictional Gurdeep Singh, a sweet shop owner who speaks highly of his children for their role in his thriving business.
When a customer appears impressed at the work of the "very worthy sons", Singh corrects him: "Not sons...my daughters!"
The video shows Singh and his two daughters standing proudly in front of their sweet shop, Gurdeep Singh and Daughters.
"It not only questions the gender discrimination that still exists, but also iterates our belief that it is time for fathers to step up and inspire their daughters with confidence and self-belief," said Uday Shankar, the chairman of Star India which owns the TV channel.
This isn't the first time Khan has been linked to promoting the role of women in society.
Just two months ago, he starred in a Indian biographical sports film, Dangal, about a father training his young daughters to to become wrestlers. It became Bollywood's highest-grossing film of all time.
The film is based on the life of Mahavir Singh Phogat, a state champion wrestler who coached his daughters in his craft, who became champions in their own right.
---
Muslim-designed fashion on Oscars red carpet
For a ceremony that was by no means short of politically charged acceptance speeches and controversy, there were also subtle political statements that went under the radar at the 89th Academy Awards.
One of such messages were made by director Ava DuVernay, 44, whose film "13th" was nominated for best documentary.
In 2014, she became the first African-American female director to be nominated for best director at the Golden Globes for her film Selma.
Last night, Ms DuVernay stepped on the red carpet in a gown designed by a man based in a majority Muslim nation: Lebanon.
"A small sign of solidarity. I chose to wear a gown by a designer from a majority Muslim country," she said in a tweet.
The studio mentioned by Ms DuVernay is Ashi Studio in Beirut, Lebanon which was launched by Mohammed Ashi in 2007.
Although Lebanon is not one of the seven countries included in US President Donald Trump's temporary immigration pause, 54% of its citizens identify as Muslim.
Ms DuVernay's critically-acclaimed documentary 13th - a reference to the 13th amendment to the US Constitution which abolished slavery - investigates "mass criminalisation and the sprawling American prison industry".
Before heading to the event, Ms DuVernay also paid tribute to Trayvon Martin, the unarmed black 17-year-old who was fatally shot by neighbourhood watchman George Zimmerman in Sanford, Florida, five years ago on 26 February. Mr Zimmerman was later found not guilty of either second-degree murder or manslaughter charges.
"On my way to Oscars. Taking a moment to remember Trayvon Martin. Our hoodies are still up and the movement is still strong," she tweeted, holding up a grey hoodie with Trayvon printed on the front. It is believed that Mr Martin was wearing a grey hoodie during the shooting incident.
---
Thousands raised for woman deported from Britain
An online funding campaign to support a woman who was deported from the UK has surpassed its target amid reports that she had been sent back to Singapore.
Even after the campaign doubled its initial £10,000 target on Sunday - due to increased costs following her leaving the country - thousands of pounds were raised. More than £36,000 have been raised so far, exceeding the new £20,000 target.
Irene Clennell is a wife, mother and grandmother who lived in Durham. It is understood that Mrs Clennell stayed for long periods in Singapore to care for her parents which invalidated her residential status. The funding campaign was started by her sister-in-law Angela Clennell.
The Home Office says it does not comment on individual cases but a spokesperson said: "We expect those with no legal right to remain in the country to leave."
She has been caring for her sick husband of 27 years. She told the BBC that the Home Office sent her back to her home country without warning.
"We need to raise £10,000 for legal fees to fight this injustice. Anything you can donate to our family so we can fight back against this unfair, draconian decision that threatens our family is so very appreciated," says the campaign.
A user tweeted at Home Secretary Amber Rudd: "Does keeping the UK safe include deporting Irene Clennell with only £12 and the clothes she's wearing?"
But not everyone was opposed to the move.
"After all that time, you would think she could have sorted out her paperwork...The Home Office is doing its normal job... She is not an asylum seeker just someone who thinks laws do not apply to her," one Facebook user said.
By the UGC and Social News Team. Additional reporting by Lamia Estatie from BBC Monitoring