NFL players 'turned away' from London nightclub, and 81-year-old Japanese app designer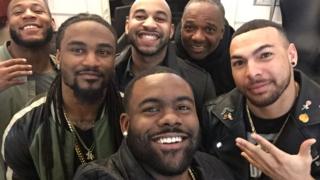 Six NFL players are allegedly turned away from a London nightclub, and an 81-year-old Japanese woman designs her own app.
NFL players "too urban" for London nightclub
A group of black American Football players have allegedly been turned away from a London nightclub for looking "too urban".
Mark Ingram, running back for the New Orleans Saints, made the claim on Twitter shortly after midnight this morning.
The athlete was out with teammates and friends, including fellow Saints Vonn Bell and Sterling Moore.
Writing on Twitter, Mr Ingram said that the group had dinner in Mayfair before travelling to Cirque Le Soir, a circus-themed nightclub close to London's Carnaby Street.
"We pull up to Cirque Le Soir where we have reservations," he wrote.
"They told us that they were "6 big guys" that are too "urban", but nobody [was] taller than 5'11," he added.
Since Mr Ingram shared his story on Twitter using the hashtag #TooUrban, the phrase has been used more than 1,300 times on the social network.
Some users have tweeted messages of support for the men, while others have lambasted London's "pretentious nightclub policy".
Cirque Le Soir posted a response on its Twitter account this evening, saying staff were "upset by the suggestion that there was anything malicious in our turning away of Mark Ingram and his friends".
"We proudly celebrate diversity, not only as part of our shows, but as part of who we are.
"Admitting an all-male group goes against our policy and is clearly stated on Facebook and on all reservation confirmation emails."
Four NFL games are scheduled to be played in London this year, the most the city has ever hosted.
Despite the alleged incident Mr Ingram said he "can't wait" to play in London.
---
81-year-old Japanese woman designs gaming app
Not many of us can say we have a grandmother cool enough to code.
But one 81-year-old Japanese woman has bucked the trend by creating her very own iOS game, Hinadan. The app's name is a mix of the Japanese words for doll and tier.
Masako Wakamiya started the app as a way of showing others the proper way to display traditional Japanese dolls ahead of Girls' Day in Japan on 3 March.
In the game, players are asked to place 12 dolls in their correct positions on a four-tier display.
On her personal blog, she says that she only learned how to use computers at the age of 60. Before that, Ms Wakamiya was a banker for 43 years.
But more than just creating a game, Ms Wakamiya is quite active in cyberspace. In a talk in 2014, she called herself an "ICT evangelist".
On her blog, she weaves together her various interests, from art to music, tech and travel. Some of her posts include tutorials on making art in Microsoft Excel.
Ms Wakamiya also aims to inspire other senior citizens to participate in society by using technology. She is active in the Mellow Club, a space for Japan's "senior netizens".
The next time you moan about your elders for not knowing their tech stuff, think again!
---
Fatal Snapchat stunt raises questions in Singapore
A 17-year-old boy from Singapore has fallen four storeys to his death after a dangerous Snapchat stunt with his friend went wrong.
According to Singapore's Today newspaper, Jonathan Chow jumped over a barrier at the Orchard Central shopping centre in the city's retail and entertainment district.
He wanted his friend, Ruth, to take a Snapchat video of him while he leapt over the barrier, thinking he would land on a ledge by the barrier.
But the ledge was made of plasterboard, which gave way and he fell to his death.
"We were window shopping for clothes and when we went to the bridge, he came up with the idea of doing the stunt," Ruth, also 17, was quoted as saying by Today.
"We both thought the ledge was made of concrete, but when he jumped, he fell straight through."
Media sources had initially reported Mr Chow was aiming to retrieve his mobile phone.
A leaked CCTV footage allegedly shows the moment Jonathan attempted the jump.
Ruth has been helping police investigate the cause of his friend's death since the incident.
She said the two had met each other on social media and became good friends.
Jonathan's death has prompted his father to call for "improvements in the safety aspects of public spaces".
On social media users are arguing whether the shopping centre's design and safety measures were to blame for the incident or a growing desire among teenagers for social media stunts.
"The only awareness that needs to be raised is for teens not to do dangerous acts for the sake of social media fame," commented one on Facebook.
"I think such ledges should be kept to a minimal width, tapered towards the end or constructed on a different plane to the floor finish level, such that it's non-load-bearing nature isn't being disguised," said another user.
By the UGC and Social News Team