Trump-St Patrick's Day clover confusion, and Indian minister in sexist row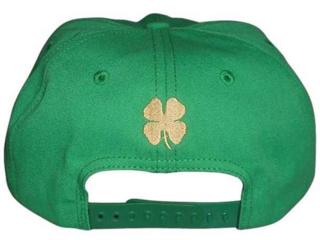 US President Donald Trump's Irish-inspired hat features the wrong clover, and an Indian minister makes headlines for suggesting curfews are the way to protect female college students.
Clover confusion
With St Patrick's Day fast approaching, can you tell your clovers apart?
US President Donald Trump's Irish spin on his signature "Make America Great Again" hat has caught the internet's attention... for sporting the wrong clover.
The Donald J Trump online shop is selling the "Official Make America Great Again Green Hat" ahead of St Patrick's Day on 17 March.
The description for the hat says it has an "embroidered four-leaf clover" on the back.
Many Twitter users were quick to point out that an Irish shamrock, used as a symbol for St Patrick's Day, is in fact a three-leaf clover.
A shamrock is a young sprig of clover and it is said that Saint Patrick used shamrocks to illustrate the Holy Trinity. As such, it has come to be associated with St Patrick's day.
Four-leaf clovers are said to bring good luck and are rarer in abundance.
A US-based marketing strategist called out the error by illustrating the difference between a shamrock and a four-leaf clover.
She added: "Don't mess it up, #marketing geeks, for #StPatricksDay."
One user said the mishap made the president "culturally clueless".
Another dubbed it a scandal, using the hashtag #shamrockgate.
---
You might also be interested in:
---
Others were quick to point out another issue, pertaining to a GOP tweet promoting the hat: "Need a #MAGA hat for St. Patty's Day?"
This did not appear to sit well with many social media users, particularly the Irish.
Dublin-based Game of Thrones actor Brian Fortune made his feelings clear:
"It's Paddy's not Patty's...Saint Patrick wasn't a burger #PaddyMeat," another user continued.
Another Dublin-based communications professional added: "St. Patty, great guy, used the four leaf clover to explain God as the father, son, holy spirit and America. Trust me, I know."
If you're feeling hungry by now, here are some St Patrick's Day recipes, courtesy of BBC Food.
---
Indian minister criticised for "hormonal outburst", curfew remarks
An Indian minister has come under fire after suggesting that early curfews in college hostels were the way to provide for the safety and security of female students.
Maneka Gandhi, who is minister for Women and Child Development, made the comments during a conversation with college women, broadcast on NDTV India and posted on YouTube, ahead of International Women's Day on 8 March.
In a discussion with female college students, one student pressed the minister, asking her why college girls were not allowed to leave their hostels after 6pm to go to the library when the same rule did not apply to male students.
The minister replied: "As a parent who is sending a daughter to college, or a son, I would expect her and him to be protected.
"And perhaps one of the protections is against themselves. When you are 16 or 17, you are also hormonally very challenged. So, to protect you from your own hormonal outbursts, perhaps a certain protection, a lakshman rekha [boundary], is drawn."
"You can make it 6, you can make it 7, you can make it 8, that depends on college to college. But it is really for your own safety point that it's given.
---
You might also be interested in:
---
"It's not simply against rapists or against something else. It could also be against traffic accidents.
"If you choose to live within the campus, then there are certain disciplines every campus follows and it's not just in India, but all over the world."
The discussion moderator then pointed out that none of these universities around the world applied policies that were "especially unfair to girls".
To this, the minister said that the curfews should be identical for both girls and boys.
But Twitter users did not take well to her comments.
"You know what would be safest? Lock hormonal men in, instead of denying women the right to lead a full life," one journalist said.
Another tweeted at the minister, asking her to "stop policing women's bodies".
But some said her remarks had been taken out of context.
"Anyone who has watched the interview would know her statement has been twisted to give it a completely different meaning. #shameful," one Twitter user said.
The user added: "Fake trollers must be getting paid to abuse #ManekaGandhi. She made a very sensible option, which was not bad at all."
But Pinjra Tod, a collective that says it aims to "ensure secure, affordable and not gender-discriminatory accommodation for women students across Delhi", condemned the minister's remarks.
The group called for a demonstration on 8 March, under the slogan "A 'Hormonal' Insurrection: FYI Maneka Gandhi".
In November 2016, Maneka Gandhi said that the issue of rape and sexual violence in India had been exaggerated by the press.
A few months prior, the minister spearheaded a Daughters' Day and the Daughters' Week in India which she told the BBC were aimed at reducing female foeticide, improving India's skewed sex ratio and educating girls.
By the UGC and Social News team