Nike's hijab line for Muslim female athletes, and Sydney boys on the importance of feminism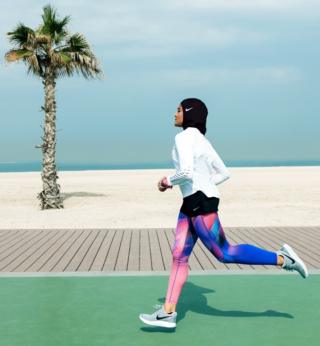 Nike launches a hijab line catering to Muslim female athletes, students from an all-boys school in Sydney ask the women in their lives why feminism is important to them, an Oxford singing group offers their original take on a Cyndi Lauper classic, and Indian actresses tackle "managing cleavage".
Sportswear for Muslim female athletes
Nike has launched a sporty hijab line that Muslim female athletes helped design, and which will go on sale next year.
The female athletes involved in the design process also featured in the campaign photographs, including Egyptian runner Manal Rostom.
On her Instagram page, Manal said: "It's not easy growing up , at least in this region, being a girl . So much pressure, constraints and confusion - sometimes you want to just run away from it all."
One hijabi said that that the move by Nike was "possibly a game changer for elite athletes with top technology on offer".
Some were also hopeful that the move would normalise the presence of hijabis in sport.
Another athlete added that she was "stoked" for the line: "I played basketball and ran track for 5 years. Every season, someone had a problem with my uniform. So many Muslim girls still go through this."
---
You might also be interested in:
---
Malaysian fitness coach and hijabi Esfah Lili was also on board.
"I audibly gasped when I read that @Nike was coming out with a sport hijab. It's like all my dreams have come true," a Canada-based hijabi said.
Emirati figure skater Zahra Lari, who featured in the campaign, said she was excited and proud to be "part of this incredible journey".
But several Twitter users pointed out that hijab sportswear was not new.
One user pointed out that Muslim entrepreneurs had taken this on before Nike "made it mainstream".
"Slightly torn - Sport hijabs have been around for a while and I can't see anything special (except the Nike tick) about the design," one Twitter user continued.
"@Nike imma let you finish but @AnahMariaactive has one of the best Sports Hijab of all time," UK-based hijabi YouTube vlogger AshaEveryday said.
Female athletes are often criticised in the Arab world for not covering up enough.
However, Egyptian beach ball volleyball players participating in the Olympics last year were also mocked and humiliated on Arab social media for wearing long-sleeved T-shirts and leggings.
---
The perfect prefects
Why is feminism important to you?
A group of 36 boys in Sydney Boys High School's Class of 2017 asked the women in their lives that very question.
Their conclusion? "Feminism is important to the women in our lives, so it should be important to us too."
In a video posted to the Facebook page of the Prefects of Sydney High, the students repeated what the women had told them.
"Feminism is important to me because a few months ago, a guy decided for me that I wanted to have sex with him. I didn't want to.
"Feminism is important to me because when I was 12, my dad told me I should be ashamed of my body and that I had thunder thighs."
"Feminism is important to me because one day my dad told me I should be ashamed of having a flat chest because boobs are all men really care about.
"Feminism is important to me because I literally cannot go for a run around the block without being catcalled.
"Feminism is important to me because my dad doesn't think I can be an engineer, and my mom doesn't think I can be an economist because that's too hard for a girl."
"Feminism is important to me because I'm hopeful for my future. I have high-reaching dreams and aspirations and the ability to achieve them. And that's something exciting.
"Feminism is important to me because millions of girls and women around the world are denied the right to education, the right to choose who they marry, the right to own land, and the right to their own safety.
"Feminism is important to me because I want my daughter and her future daughters to have the opportunities that I never had."
A representative from the Prefects of Sydney High told the BBC: "We are just thrilled at the response from the boys at our school and from people in the wider community. We can't believe that our video has gone so far and impacted so many people."
What do they hope to achieve by the video?
"We want men and boys everywhere to understand better the experiences of women in their lives and to respond to those experiences in more conscientious ways.
"We wanted to use our privilege and platform to ensure that the need for feminism is tangibly expressed in people's minds. The specificity of some of the quotes is just shocking."
He added "It's a shame that a bunch of boys are getting headlines on International Women's Day but if we're encouraging young men to think about gender equality then I think we're achieving our goals when we started the initiative."
---
Girls Just Want to Have Fun(damental Rights)
A singing group's original take on Cyndi Lauper's "Girls Just Want to Have Fun" has hit the right note.
The Oxford Belles, Oxford University's original all-female a cappella group, posted a video to their Facebook page, entitled: "Girls Just Want to Have Fun(damental Rights)".
The women say they are supporting three charities that advocate for women's rights: Oxfordshire Rape Crisis, The Malala Fund and FORWARD.
And they asked several leading female academics at the university to give advice to young women today.
Jess, President of The Oxford Belles, told the BBC that the practical aim of the video was to raise awareness for these charities.
She added that it also intended to show that "girls can have fun, but also be smart, independent and ambitious".
Jess continued: "We rehearsed the arrangement before Christmas and decided to do it as a music video in the middle of February.
"It was one day of intense filming, we just turned up and did it.
"And we coordinated with academics in the university on when to visit them in their offices."
The group has sung before in the Oxford town hall and the Olympic Park.
The Barden Bellas may have some competition on their hands.
---
Cleavage "advice"
Just how much cleavage is deemed acceptable in the office or at the gym?
Indian actresses Swara Bhasker and Taapsee Pannu are telling women just that, albeit in a sarcastic way.
The two appeared in a video, uploaded on YouTube by BookMyShow, giving women "style tips" on "managing" their cleavage.
Their suggestions for the office: a "collarbone high-neck" or a "chin-high turtleneck".
The gym? Cover up and sweat it out in the heat to lose more weight.
The club? "Scarf it up, maybe shawl it up."
Your wedding day? "Cover it all up. Why do you want to create a scandal. You don't want to start your marriage like that."
---
You might also be interested in:
---
But the actresses then turn the narrative around.
"We are women, we are born with it. If you have it, flaunt it."
One added: "It's my body."
While one woman praised the actresses for giving a "sarcastic answer to brainless idiots", not everyone saw it in a positive light.
"What are you, asking us to go out flaunting our cleavage everywhere?", another added.
But another responded by saying that the video was not asking women to go out naked, but instead was making "people realise how women are being judged according to their neck line."
By the UGC and Social News team