US school's prom dress guidelines lambasted for body-shaming, and Ed Sheeran signs a school apology letter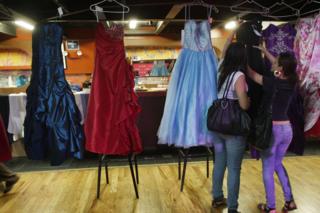 A Catholic high school's restrictive guide to prom dresses has drawn body-shaming accusations and a call for an alternative student-run prom, Ed Sheeran signs a student's apology letter to her teachers, and a study looks at the link between attraction and food choices.
A girl's (extensive) guide to prom
A Catholic high school in Illinois, USA, has been criticised for its lengthy prom dress code handbook - a whopping 21 slides.
The guidelines, which deem some dresses to be acceptable on certain body types but not others has prompted a call for a student-run prom.
Some have also accused the school of body-shaming its students - having a critical or negative attitude toward certain body sizes or weights.
While the gentlemen's dress code is covered in just two slides, there are 15 slides in the guide for the ladies.
The policy provides illustrations on acceptable and non-acceptable dresses including on two-pieces, necklines, back, cut-outs and mesh.
In the images, necklines showing cleavage or dresses with high slits or very low backs are deemed non-acceptable.
Boylan Catholic High School's prom is due to be held in May.
A Twitter account calling for an alternative student run prom said: "We all know these rules are stiff, this will be a reserved venue costing $25 a person."
Students from other schools are also challenging their prom dress codes.
A student in California tweeted: "I really really wanna go to Edisons prom but the dress code is beyond STUPID."
Another added that she would be annoyed if her school were to enforce a dress code.
---
You might also be interested in:
Is your workplace dress code sexist?
Top tips to help your child improve their body image
---
In response to the Boylan guide, a former pupil said: "So glad to see you made national news for body shaming your young girls. Will you also be banning their sports uniforms for being too revealing? Not a proud day to be an alumni."
A senior and former cheerleader at the school added: "Glad we are becoming national news! Maybe it's time to change the rules @boylan???"
"Thank you to the woman who thinks Boylan girls come off of stripper poles," another girl continued.
Reflecting on her own experiences of finding a prom dress, Jane Horvat tweeted a note which read:
"As a tall, curvy muscular woman with an athletic build, finding clothes that fit let alone flatter my frame has always been challenging. There have been many shopping trips that have ended in tears and me body shaming myself when I look in the dressing room mirror.
"The restrictions that Boylan has now placed on the women attending prom...do not keep in mind the fact that choosing attire can be a stressful and unhealthy time for a woman because she is overly conscious of what she perceives to be wrong with her body."
Jane continued: "To all the girls attending Boylan's prom this year, no matter what dress you end up wearing, I want you to know that you and your body are unique and beautiful."
According to The Rockford Register Star, Boylan President Amy Ott said the purpose of the guidelines is to "help not hurt" the girls.
She said: "We think it's important as a Catholic institution to help our students see that they can be elegant and modest and beautiful at the same time."
---
Ed Sheeran's school apology letter
Need a letter signed for missing out on school? Ed Sheeran is your man.
A New York student can testify to it.
Suzy, 15, posted a video on Twitter showing her taking a picture with the music star and then asking him for his signature.
But the request wasn't for your typical autograph.
Following the musician's private show at Webster Hall in NYC, Suzy waited outside the venue for Ed to come out.
They took pictures and then she asked him: "Wait, can you sign this please? It's an apology letter to my teachers."
---
You might also be interested in:
How Ed Sheeran owned the charts
Ed Sheeran racks up massive UK album sales - but can he beat Adele?
---
The letter reads:
"Dear Suzy's teachers,
"I sincerely apologise for causing Suzy to miss school, come in to school late, for disrupting class with her talk about me and for causing her to miss some of your classes for the past several years.
"Please excuse Suzy from any classes or classwork she missed because I'm actually more important.
"Regards, Ed Sheeran
"P.S. I will definitely do it again and I am not sorry whatsoever."
Suzy told us that she hasn't yet had the chance to show her teacher the letter.
We'll accept your apology, Ed.
---
Of men and food
Would you pick a salad over a kebab?
If you're a woman, you're more likely to make healthy food choices while eating with a good-looking man, a new study says.
The research, published by Tobias Otterbring, reveals that this doesn't apply after exposure to appealing same-sex individuals.
One Twitter user weighed in on the study: "Clearly I have never seen a good-looking man :)"
The research also determined that men will eat just about anything, regardless of their attraction to the woman they're eating with.
But they will dish out on expensive food if out with an attractive lady.
Another user joked "My missus has the solid, trencherwoman appetite of a bear emerging from a cave in Spring, so there may be some truth to this."
By the UGC and Social News team