Marion Kelly for president, and Turkish Airlines responds to Somalia online campaign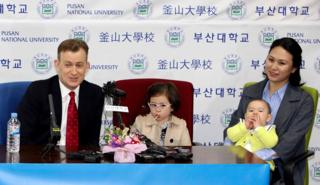 Social media users call for the young girl who stole the hearts of many last week to become "president of earth", an online campaign to get Turkish Airlines to send aid to Somalia gets the air carrier's attention, and Syrians online mourn loved ones lost in the Damascus twin suicide attacks on Wednesday.
Marion for president
Marion Kelly, four, has once again attracted attention for her sassy attitude at a press conference in South Korea on Wednesday.
She became a viral hit when she, her younger brother and mother interrupted a live BBC Skype interview with their father, Professor Robert Kelly, last week.
At the press conference, Prof Kelly said he was not shoving Marion out of the way when he tried to move her.
Instead, he said he was trying to slide her closer to the toys and books in the hope that she would play with them until the interview ended.
Marion, seemingly unfazed, was enjoying a lollipop throughout the presser.
You might also like:
Some social media users have called for her to own the world stage by becoming "President of Earth".
One user posted an image of Marion at the press conference, and captioned it: "Marion Kelly for President".
"She's cute and sassy - love it," one user exclaimed.
Another shared a cartoon GIF of Marion and her younger brother from the videobomb interview: "I'd like to read a book with a protagonist who captures the hippity hoppity spirit of Marion Kelly. What do you recommend, twit-friends?"
One Twitter user drew attention to the country's upcoming presidential election, due for 9 May, following the ousting of country's president last Friday: "I am told South Korea needs a new president."
Mark your calendar, Marion!
#TurkishAirlinesHelpSomalia
Celebrities are asking Turkish Airlines to help send aid to famine-struck Somalia and the airline has responded to the call.
The hashtag #TurkishAirlinesHelpSomalia - launched on Wednesday night - has been shared hundreds of thousands of times.
Vine and Snapchat star Jerome Jarre started the social media campaign in an effort to help spread the word about the dire humanitarian conditions in Somalia.
In the video, subtitled in English, Mr Jarre says that a volunteer in Somalia told him about witnessing a six-year-old girl dying from dehydration after walking 90 miles with her mother to find water.
He added that the media was "barely talking" about the famine and that it makes people feel like there is nothing they can do about it.
He continues: "Maybe I am going to sound crazy now, but what if we could find an airplane? And we filled it with food and water and sent it to Somalia?
"On the ground, there are NGOs that will be able to take care of distributing.
"I have identified that there is one airline that flies to Somalia, Turkish Airlines."
Mr Jarre then asked people to user the hashtag #TurkishAirlinesHelpSomalia and make the airline respond.
Several people, including actor Ben Stiller, echoed his call.
Mr Stiller, who posted his own video message, said: "There's so much going on in the world so it's kind of hard to focus on stuff that's going on outside of our own experience and really connect with that.
He said that while Jerome's idea was "kinda crazy", that it could possibly work and appealed to people to put out messages on social media using the hashtag.
"These people are families, are people like us who are just trying to survive and maybe we can help them."
Turkish Airlines has since responded to the online campaign, though it's not yet clear how this will materialise.
BBC readers have asked what they could do to alleviate the humanitarian crisis affecting Yemen, Somalia, South Sudan and Nigeria.
Here are some ways to help.
Syrians mourn loved ones lost in Damascus twin attack
Syrians from both sides of the conflict have come together to grieve for the loss of their friends and family in two deadly attacks that hit Damascus on the sixth anniversary of the Syrian uprising.
Dozens were killed and injured in the 15 March blasts which targeted a court complex - where people normally go to obtain marriage certificates and other paperwork - and a restaurant in a picnic area in a separate district of the capital.
A Syrian man who now lives in Germany wrote: "I did not complete my studies at the Faculty of Law in Damascus. Had I graduated, I may or may not have been one of those killed in the Palace of Justice.
"But my friend did graduate and he was there...he was killed."
He addressed his friend: "Please forgive me. I saw that you were online a couple of days ago, but I did not call...Rest in peace."
"My cousin was killed in today's attack... A newlywed young man... He was supposed to live a life in which he laughs, feels happiness and sadness...He was supposed to simply live," one pro-opposition Facebook user said.
A pro-government Facebook page, Damascus Now, posted a video of an old man who survived the attack in the courthouse narrating the death and destruction he saw.
The man said that all he thought of when it happened was his three daughters.
Several local social media pages - both pro-opposition and pro-government - are also sharing photos of young people from all walks of life who happened to be at the courthouse when the attack took place.
An image that was circulated by a lot of these pages following the attack, shows an untouched birthday cake among the damage.
Another Syrian living abroad who had checked in with his family following the attacks praised them for always trying to be positive, even amid the difficult situation.
No group has yet claimed responsibility for the 15 March blasts and Islamist opposition factions as well as a local jihadist group have denied their involvement.
But last weekend, an Al-Qaeda-affiliate in Syria claimed suicide attacks which killed 40 Shia Muslim pilgrims in the capital.
Following the weekend attack, Facebook activated "Safety Check" in the country for the first time.
By the UGC and Social News team; Additional reporting by BBC Monitoring's Middle East team