Russian opposition leader goes green and Australians share stories of racism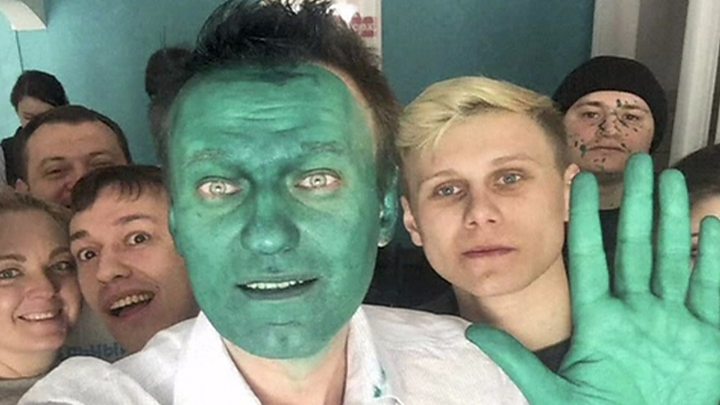 Russian supporters of an opposition leader are sharing selfies on Twitter of their green faces, Australians share their experiences of racism as the country celebrates its diversity, and love conquers war in a Damascene hospital room.
The green fans of a Russian opposition leader
Green coloured faces are cropping up on Russian social media.
The reason? A show of support for opposition blogger and presidential hopeful Alexei Navalny.
Mr Navalny, 40, was doused in zelyonka or brilliant green - a local harmless anti-septic - in an attack by an unknown assailant prior to the opening of his campaign office in the Russian city of Barnaul on Monday.
He posted about the attack on his blog and linked to a YouTube video where he turned the attack to his advantage.
In the video, entitled "from Barnaul. Either the Mask, Avatar or Shrek" and subtitled in English, he said: "I've got a very stylish face that perfectly matches the brand colour of our pre-election headquarters".
He blamed the Kremlin for the attack, saying its purpose was to deter him from travelling around the country and organising rallies, but that this would not stop him.
Mr Navalny, an anti-corruption campaigner, also appealed to Russians to participate in anti-corruption rallies across the country on 26 March.
His followers were quick to show support, painting their faces green in solidarity and posting their pictures using the Russian hashtag #GreenNavalny.
Staff in his headquarters tweeted their smiling and perplexed faces painted green.
A Russian anti-corruption lawyer also shared an image of her painted face while others shared their green selfies at home.
Others jokingly compared Mr Navalny's greenish appearance to The Hulk, Shrek, Stanley Ipkiss from The Mask, Kermit the Frog, William Wallace in Braveheart, and French crime fiction character Fantomas.
Prominent blogger Nikolai Danilov was also reported to have been detained after being seen on Moscow's Red Square with his face and hands painted green.
The liquid, which is difficult to remove, is often used in attacks on members of the Russian opposition. In February, former prime minister Mikhail Kasyanov had the same type of liquid thrown in his face and his attacker - who shouted Pro-Putin slogans - was detained.
And in April 2016, pro-Kremlin activists doused in brilliant green guests at a human rights event in Moscow, organised by a centre labelled as a "foreign agent" by local authorities.
While Mr Navalny hopes to campaign for the presidential elections next year, he has a five-year suspended jail sentence for embezzlement, a charge his supporters say is politically motivated.
---
#FreedomofSpeech in Australia
Today is Harmony Day in Australia, a day when the country celebrates its diversity.
But some Australians on Twitter are instead sharing their experiences of racism using the hashtag #FreedomofSpeech.
This coincides with a move by the government, led by Prime Minister Malcolm Turnbull, to make changes to the country's race-hate laws or the Racial Discrimination Act (RDA).
The changes, approved on Tuesday, would alter the wording in the law from "offend, insult, humiliate" to "intimidate and harass".
The premier's assistant said this would "get the balance of right", adding that "freedom of speech is everything".
But Australian writer Benjamin Law, whose parents come from Hong Kong, took issue with this, calling on fellow Australians to share their stories of racism.
Mr Law shared his own stories on Twitter.
A reporter in Sydney said: "When we performed Wannabe at our primary school talent show, I remember having to be Scary Spice because I was the dark one."
One woman living in Melbourne, who is Aboriginal, tweeted her experience.
An actor said she had been bullied in the 90s at a play for being black and was persuaded to stay because "that's how it is".
Sydney-based Andre Georges added people would introduce him as: "This is Andre, he's a Leb[anese], but he's not one of those Lebs."
Green Senator for Tasmania Nick McKim read out some of these stories in the Senate on Tuesday.
But not everyone found it easy to publicly reveal racism they have faced.
ABC anchor Kumi Taguchi tweeted: "Sad how many memories surface from #FreedomofSpeech. Reluctant to share. But they sit with you & it can take years to process the deep hurt."
---
Love during wartime
They say love conquers all - and this woman recovering in hospital after a suicide attack in the Syrian capital can testify to it.
Walaa, a lawyer, was proposed to by Samer while in intensive care and the moment was captured on video. It has now been watched more than 123,000 times on Facebook.
She is said to have been present at a court complex in the heart of Damascus to obtain paperwork following her graduation when it was targeted by a suicide attack on 15 March.
Syrians from both sides of the conflict came together in mourning for the loss of their friends and family following the attack.
But some Syrians online have now refocused their attention to this display of affection, which they say shows that love trumps all.
---
You might also like:
---
In front of their loved ones Samer tells Walaa, whose face is bandaged: "I want to prove to you that love is stronger than war."
While the couple had previously read the first verse of the Koran with their families, a sign of good will ahead of their engagement, Samer said he wanted to continue this by placing a ring upon her finger.
The Facebook page "Expatriate Diary in Europe" said that the couple's news was an "announcement of the victory of love over war".
Speaking to the camera, the newly-engaged man said that he would be beside his fiancée come what may.
Cue Ewan McGregor!
By the UGC and Social News team; Additional reporting by BBC Monitoring in Moscow and BBC Monitoring's Middle East team