The 'cool' dog helping kids with vitiligo, and Singapore's selective dating app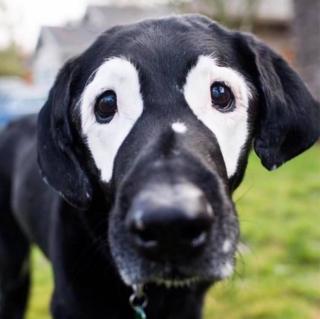 "It is because of them that my little boy smiles again," a mum's heartfelt thanks to the owners of a dog with skin condition vitiligo, and the Singaporean creator of a selective dating app comes to its defence.
Road to Rowdy
Two young kids with a long-term skin condition are making headlines after meeting a dog sharing the same rare autoimmune disease.
Eight-year old Carter, from Arkansas, developed vitiligo in 2014, a condition characterised by areas of the skin losing their pigmentation.
Ava, who is 10 and from Canada, also has vitiligo which she developed when she was four.
But Carter and Ava have more than just that in common.
They both recently got the chance to meet Rowdy - a Labrador retriever also known as the White Eyed Dog - at his home in Oregon after a crowd-funding project.
The dog, who is 13 and was diagnosed with the disease in the same year as Carter, helps affected children come to terms with their condition and grow in self-confidence.
His owner, Niki, had been in touch with Carter's parents for a while. She posted a live video on Facebook on Sunday showing the first meeting between the two.
Another Facebook live posted on Wednesday shows the moment Ava and her mother arrived from Canada and met Rowdy.
Following the meeting, Carter's mother told Inside Edition that her son had "done a complete 180" and was now proud of himself.
The boy's parents also say they've been overwhelmed with "sweet" messages of support. While Rowdy's owner said that "life has been a huge whirlwind since this amazing boy and his mom flew in".
Carter and his mom are due to leave Oregon on Thursday and while they know that Rowdy doesn't have much time left, they now consider his owners part of their family.
Carter's mom wrote: "They could have very easily just decided they had a 'cool' looking dog, but they took it much further and made it their mission to reach out to others... It is because of them that my little boy smiles again, and is proud to tell people about his vitiligo."
She continued: "This story isn't just about vitiligo though. Rowdy has taught us the definition of beauty, regardless of what our outer shell may look like. He has taught us compassion for others and humility."
Over the weekend, Rowdy suffered a seizure and is having tests to determine the cause, but his latest visitor, Ava, appears to be cheering him up, greeting him with her cheerful "Road to Rowdy" shirt.
---
Singaporean defends "Tinder with an income filter" dating app
The founder of a controversial Singaporean dating app has come to its defence after criticism.
The dating app, called HighBlood, says it's for "High Society" and leads with the slogan "Rise Above All". It profiles users based on income, profession and prestige.
Its promo - which says the app won't feature Bangladeshis, maids or "uglies" - has been slammed by Singaporean Twitter users.
The app's founder, Herbert Eng, took to Medium following the reaction on Twitter and in an article on the Mashable website which said the app was "promoting itself with racist slurs".
Mr Eng wrote in an online post on Wednesday that his app is "for those who are sick and tired of fake profiles, scams and bots in online dating".
He continued that there was a "certain racial preference when it comes to dating" in Singapore and that the app was responding to this.
"Does having a racial preference in considering a life partner make one racist?" Mr Eng asked.
The app is currently seeking a marketing co-founder as it does not have the funding it requires to launch.
But some haven't taken lightly to the app's aims.
Singapore journalist and activist Kirsten Han tweeted: "I know I write for a living but in this case I really don't have much to say."
Ms Han told the BBC: "People seem to find the idea either laughable, stupid or offensive... It's just so blatant, from the name HighBlood to the 'no banglas, no maids' graphic, that the racism and elitism is undeniable.
"That said, these biases do exist in Singapore, from racist xenophobia against migrant workers to the practice of sizing people up according to what school they went to and how much they earn."
There are many foreign migrant workers in Singapore who work as construction or domestic workers on low-wage incomes and come from Bangladesh, the Philippines, Indonesia and India.
One Twitter user weighed in on the discussion: "Looks like the alt-right has finally reached the shores of Singapore."
"I sincerely hope your app takes off! This would significantly weed the dating pool of racists, bigots, elitists and supremacists of all kinds," a user on Facebook added.
While another said he understood "it's bigoted...But let's face it. In real life, people look at how attractive you are as well. Tell me how easy it is for 'ugly' people to get dates compared to the ones society deem 'handsome' or 'beautiful'".
By the UGC and Social News team