Hero honoured for ending a street fight praises mum, and Ugandans really want Trevor Noah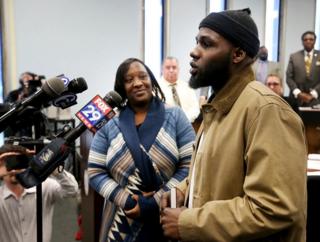 An American man honoured by his city council for stopping a teenage street fight credits his mother for his upbringing, Ugandans employ their editing skills to "force" South African comedian Trevor Noah to visit their country and opponents of the US president are making memes from his photos pretending to drive a truck outside the White House.
'A gift with words'
A man who was thrust into the spotlight for breaking up a street fight between two teenagers is once again being acclaimed online.
Ibn Ali Miller, a 26-year-old man from Atlantic City in New Jersey, was honoured for his actions by the local council on Wednesday.
His speech during the city council meeting, in which he paid a touching tribute to his mother Sabrina, has now been viewed by millions of people on Facebook.
At the event Mr Miller tearfully said he grew up in the projects and whenever he got into trouble his mother used to make him read as a punishment.
"She would make me read books and I'd get asked about a short story or a poem," he said.
"People get 15 minutes of fame a lot and I would like to use every second of the 15 minutes to send gratitude to my mother."
He said he was upset that people were so surprised that he had intervened in the fight.
"I'm crying because this whole situation deeply saddens me. The fact that it's unbelievable - this should be very believable, this should be a norm, this should be regular."
Many online showered him with praise for both his delivery in the meeting and the way he dealt with the fighting teenagers.
"With tears streaming down my face, I just want to hug that momma and say good job!! Good job raising a real man that stayed on the right path," one Facebook user said.
Another added: "This is what REAL MEN do. They are the examples to younger generations. Not just by words, but by actions. #BeTheExample".
While one Facebook user said that Mr Miller had a way with words and should be given a role in the school system.
This sentiment was echoed by others: "Imagine how many lives this man can save from doing this. His mom did right by him and she is a testament to how it all starts with parenting. He didn't take the credit either, gave it to his mother and the kids. A good man."
And some also had praise for the teenage boys who had been fighting.
One of the teenagers shared an image of the pair with Mr Miller, captioned: "Just the beginning."
Mr Miller, who is also a father, told Time Magazine: "I'm a Muslim. I was raised by Muslim parents. That's what we were taught in my house, always, growing up."
"For me, I don't look at it like I'm a peacemaker. I did what I was supposed to do, what I was raised to do," he added.
His actions had also earlier been praised by NBA star LeBron James who saluted him for stepping in and speaking to the younger generation.
---
Ugandans really, really want Trevor Noah to pay them visit
Ugandans on Twitter are sharing doctored images of South African comedian Trevor Noah touring their country.
Why, you ask?
Ugandan online newspaper Matooke Republic reported Thursday that the US-based comedian and host of The Daily Show would be headlining a comedy festival in the country in November.
Mr Noah quickly shot down the claim: "This is a scam, I'm not coming to Uganda."
But Ugandans are having none of it.
They've launched an online campaign, using the Twitter hashtag #TrevorNoahVisitsUganda, showing the comedian "visiting" various sites in their country.
The newspaper which first reported the news said on Facebook that this "confirmed Ugandans have a very good sense of humour...it seems he will come by force".
The online paper told the BBC that it had received this information from a popular Ugandan comedian and event organiser, adding: "We are a reputable media outlet, providing Uganda's only free newspaper and we are not in the fake news and scam business."
A local collective called Kafunda Kreative Photoshopped Mr Noah into several of its images from their #KoiKoiUg project, which aims to use social media to break stereotypes about Uganda.
In a more convincing tone, a Uganda-based regional coffee organisation tweeted at Mr Noah why it thinks he should pay the country a visit.
One Twitter user shared a doctored image of Mr Noah hitching a ride on a bike "along the Kampala road heading to Bwaise".
The comedian also paid a visit - albeit a fictional one - to Uganda's famous Sipi Falls, a series of three waterfalls in the east of the country.
Can someone really go to all those places in just a day?
Mr Noah, Ugandans want you to find out!
---
Trump in a truck
His role has him in charge of steering a nation.
But on Thursday, US President Donald Trump climbed into the driver's seat of an 18-wheeler while welcoming truck drivers and truck industry leaders to the White House.
And a snap of his facial expression while getting into the truck is now being used by his opponents online.
One Twitter user shared the image, joking that it was the president "driving the country over the cliff".
Another showed Mr Trump instead appearing in a Little Tikes Cozy Coupe.
Mr Trump also appeared to be driving a coin-operated sports car for kids in another doctored GIF.
One captioned the original image as "When you missed the exit for Wendy's" .
And after the vote on the president's healthcare bill was delayed on Thursday because of opposition by some Republicans another user said: "When you find out the health care plan you just publicly bragged about getting voted on today, did not get voted on today."
By the UGC and Social News team; Additional reporting by BBC Monitoring in Nairobi