Beckham in Hong Kong-China upset and a Sudanese-Egyptian row over national pride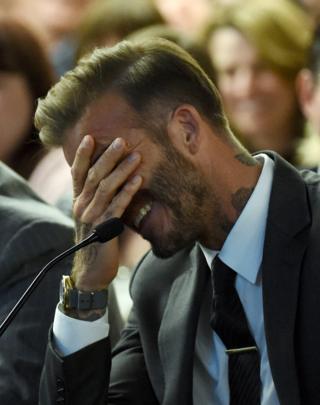 A social media post by former footballer David Beckham has reignited a debate over Hong Kong's status in China, and Egyptians and Sudanese argue online over national pride.
Footballer in Hong Kong-China upset
Former professional footballer David Beckham caused a stir online after posting on Instagram and Facebook about his visit to Hong Kong, which said he had enjoyed a "great 48 hours in China".
Beckham was there to promote a Hong Kong life insurance company.
Hong Kong is part of China but has a degree of autonomy from Beijing.
Some social media users pointed out Hong Kong's separate system from China, and "its own football team".
The former footballer has since changed the message on his online accounts to read: "Great 48 hours in Shanghai and Hong Kong."
But some commenting on his Instagram post say that his earlier post was accurate, in that "Hong Kong is a part of China".
While Instagram is blocked in mainland China, many of the comments under his post claiming that Hong Kong is a part of China are written in simplified characters, which suggests that these posts were written by people on the mainland since Hong Kong uses traditional Chinese script.
One of the pro-China comments under the post, by Shihan_58, reads: "Hong Kong residents and Taiwanese have such fragile hearts that they can't recognise they are Chinese. You need to accept your fate - after all, internationally you are just parts of China. Don't even think about independence."
And on popular microblogging site Sina Weibo, one user wrote that Hong Kongers should be given Chinese identity cards because some people there "don't know about their nationalities".
Many people in Hong Kong thanked Beckham for making the correction.
And one Instagram user, writing in English, said: "HONG KONG IS NOT CHINA", in reference to a banner held in 2016 by a lawmaker advocating for an independent Hong Kong.
On Beckham's same post on Facebook, users made their views clear, saying Hong Kong and China were "totally different".
There was similar controversy last year when his wife Victoria launched her first overseas shop in Hong Kong, using simplified Chinese instead of traditional characters, the script commonly used in Hong Kong, Macao and Taiwan.
---
"Mother of the world"
Egyptians and Sudanese are rowing online over which country holds more pride in its history.
During a recent visit to Sudan, the Qatari emir's mother Sheikha Moza bint Nasser allegedly described Sudan as "mother of the world" or "'umm al-dunya", an expression commonly used in Arabic to refer to Egypt as one of the oldest civilisations of the world.
Images were also shared on social media showing Sheikha Moza standing by the Meroë Pyramids in Sudan - as part of a Qatari initiative to promote archaeological heritage there - accompanied by quotes which read: "Sudan is the mother of the world".
And Egyptians online did not take to this lightly.
Both they and Sudanese Twitter users argued on Twitter using the Arabic hashtags #Pyramids_of_Sudan, #Sudan_mother_of_the_world, and #Sudan_is_the_origin_of_civilisation.
One Egyptian tweeted that the pyramids in Sudan were "built by old Egyptians when Sudan was under Egyptian rule".
"This is a Qatari-Turkish plot to make Egypt kneel to Sudan," another added.
But a Sudanese user who shared an image of Sudanese pyramids said that Egypt had "stolen its history" from his country.
And another highlighted the significance of the ancient Kingdom of Kush, present-day Sudan, under which Nubians conquered Egypt and created their own dynasty.
The two countries have moved to contain the row, with their foreign ministers issuing a joint statement rejecting attempts to harm bilateral ties.
By the UGC and Social News team; Additional reporting by BBC Monitoring and BBC Monitoring in Cairo