First Muslim Women's Day celebrated, and Chrissy Teigen hits out at Fox News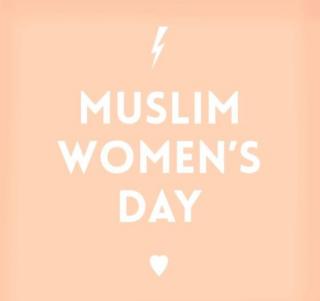 Online supporters and sceptics mark the first ever Muslim Women's Day, US model Chrissy Teigen hits out at Fox News on Twitter, and a Pakistani passenger forces a plane to turn back to Lahore for love.
Muslim Women's Day
The first Muslim Women's Day has been hailed a success with large support online, although some voiced their scepticism.
The online campaign was launched by MuslimGirl, a website by and for Muslim women, in partnership with several media organisations, centring on the voices and experiences of Muslim women.
The state of Florida also proclaimed 27 March as Muslim Women's Day throughout the state, recognising the "economic, cultural, and social contributions of Muslim women".
And Indiana Governor Eric Holcomb wished everyone around the world a happy Muslim Women's Day.
MuslimGirl encouraged people to participate and be a part of #muslimwomensday by amplifying voices of Muslim women online, sharing articles about their experiences, or posting messages of solidarity.
The platform's founder, Amani, also tweeted that the purpose of the day is to celebrate and centre Muslim women, as they are "rarely given the space to be heard above all the noise".
Indonesia-based comic artist Azisa Noor shared her illustration, saying that Islam and feminism are not mutually exclusive.
An advisor for the UN Foundation's Girl Up campaign also said: "I hope I can be more than my religion, that I can be accepted within the society that I live in... I see my religion as a flower that has been picked and stepped on by those who wish to contort beauty."
One user called on fellow Muslim women to "continue defying society's expectations" while another chose to applaud the first Muslim woman to travel to space.
The Muslim Women's Alliance in Chicago shared a video of a deaf Muslim woman and jiu-jitsu warrior signing for Muslim Women's Day.
---
You might also like:
---
And Sesame Workshop even tweeted out its well-wishes to Sesame Street's Zari, the show's first Afghan muppet.
But sceptics also made their views known.
One Twitter user shared an online poll by US news and opinion website The Daily Caller, headlined: "What's the best way to celebrate Muslim Women's Day?"
The three options listed: "Make women cover up their faces and bodies and beat them if they talk to men; Keep women from driving or voting or thinking; or Quit Islam."
"No sane, free woman chooses this outfit", one user added, over a picture of women in burkas.
And a London-based user tweeted: "Why are feminists celebrating the veil - a garment Muslim feminist groups have been trying to discard for 100 years?"
---
Chrissy Teigen hits out at Fox News
US model Chrissy Teigen has lashed out at Fox News on Twitter after it tagged her in a tweet on the United Airlines leggings controversy.
The US airline stopped two girls - flying as guests of employees and subject to the company's dress code - from boarding the flight because they were wearing leggings.
Fox News on Monday tweeted about the model speaking out against United Airlines for the ban after she said: "I have flown United before with literally no pants on. Just a top as a dress. Next time, I will wear only jeans and a scarf."
To this, the mother of one who is married to musician John Legend, retorted: "I respectfully ask you please don't ever tag me in anything, ever. Words cannot explain how much I detest you."
---
You might also like:
---
One user saluted her stance against what he termed "Faux News".
And while agreeing with the substance of the tweet, another user disagreed with her tone: "Why 'respectfully'? Fox News deserve no respect, they are detestable liars and hate traffickers."
But a woman in North Carolina who says she's a "HUGE conservative" came to the defence of Fox News.
The model regularly takes to Twitter to air her political views.
She publicly supported Hillary Clinton in the presidential election and regularly tweets against US President Donald Trump.
---
Love's emergency landing
The power of love is profound.
And in the case of one newlywed, it was strong enough to force a flight into an emergency landing.
According to local reports, as soon as carrier Shaheen Air flight took off from Lahore headed for Saudi Arabia, 28-year-old Irfan Hakim Ali created a ruckus, forcing the plane to immediately return to Pakistan.
He screamed that his wife had died, prompting the pilot who sympathised with the man, to make a landing at Lahore airport.
But following a local investigation, it emerged that Mr Ali simply missed his wife.
A video of the report posted to Facebook has been viewed thousands of times.
According to a reporter in the video, Mr Ali's parents spent thousands of rupees to send their son to Saudi Arabia for a better future.
One person who commented on the Facebook video said that Mr Ali, who hails from the city Sheikhupura located 40 km northwest of Lahore, was wise to do so as he would have become "hostage to the brutal kafeel [sponsorship system]" in the kingdom.
Thousands of Asian migrants work in Saudi Arabia and many of them were affected by the hard-hit construction industry in summer 2016.
Under the kingdom's sponsorship system, foreign workers cannot leave the country without the permission of their employers.
The BBC has asked Shaheen Air for comment.
By the UGC and Social News team; Additional reporting by BBC Monitoring in Delhi