The best of Brexit trigger day memes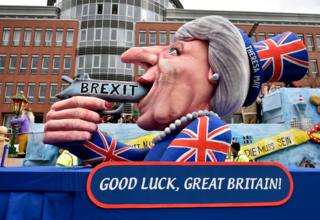 Memes have been taking over the internet as the UK begins the process of leaving the European Union.
Memes are widely being shared on social media after the UK submitted its formal notice of leaving the EU.
Some opposed to the start of the Brexit process, by circulating images saying that this would bring the demise of Britain.
Many people shared memes to show their happiness about the historic day. This one shows actor Alastair Sim as Ebeneezer Scrooge in a scene from A Christmas Carol with a twist to the famous quote in the film.
And one was keen on shortening the process that could take up to two years: "Could the government use Amazon to deliver Article 50...next day delivery, please."
An NHS campaign group tweeted a photo that first went viral in June 2016 of medical staff holding up signs displaying their European nationalities.
In one meme, Tottenham Hotspur manager Mauricio Pochettino, who has recently extended the contracts of several of his players, sits proudly next to Mrs May as she signs the letter with the caption: "Another mainstay signs a new contract at the Lane. This time the right winger."
Another image shows the children's TV character Postman Pat delivering the letter to the president of the European Commission.
And one user tried to replicate what he thought could be the contents of Mrs May's letter.
While another tweeted an image of what he thought a GCSE politics exam would look like in the future.
Another user pulled out the champagne-popping emojis.
---
By the UGC and Social News team