'Black women at work' hashtag highlights prejudice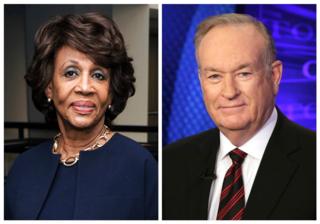 Black women are sharing their experiences of prejudice in the workplace, using the Twitter hashtag #BlackWomenatWork, after Fox News host Bill O'Reilly made fun of a black congresswoman's hair.
O'Reilly has since apologised for saying in a Fox & Friends clip that he didn't hear a word of a speech Maxine Waters delivered at the House of Representatives because he was too distracted by "the James Brown wig".
California Rep Waters, who also used the hashtag, said: "I am a strong black woman. I cannot be intimidated, and I'm not going anywhere."
Former presidential nominee Hillary Clinton addressed the issue, saying that Congresswoman Waters had been "taunted with a racist joke about her hair".
Mrs Clinton also addressed an exchange on Tuesday between White House press secretary Sean Spicer and reporter April Ryan who was "patronised and cut off trying to ask a question".
And following the incident, Congresswoman Waters said: "I'd like to say to women out there everywhere, don't allow these right-wing talking heads, these dishonourable people, to intimidate you or scare you. Be who you are! Do what you do! And let us get on with discussing the real issues of this country!"
"When a woman stands up and speaks truth to power, there will be attempts to put her down," she continued.
The congresswoman received a great deal of support online: "@MaxineWaters, you are intelligent, fair, and fierce! This country needs you. And your hair is on fleek."
And some black women shared their own personal experiences: "I corrected a white female co-worker, she cried, we ended up in a meeting with management. Mgr [Manager] said 'be nicer if you can'."
Another woman wrote about a time when a co-worker assumed that she didn't have a father.
"#BlackWomenatWork are paid less, asked to do more, are constantly antagonised, and then called angry/abrasive for setting boundaries," one continued.
"Walking into a room, running the presentation, and people still ask your white colleagues questions about your work," said one Twitter user who shared several experiences.
American film director and screenwriter Gina Prince-Bythewood added: "Pulling into my own reserved parking space and being told by a random WW that cleaning people can't park there."
Others called for Bill O'Reilly to be fired from Fox News, adding: "Bill O'Reilly made an unnecessary comment about Maxine Waters, but I didn't hear a word he said; I was looking at the racist pig."
---
By the UGC and Social News team