Pregnant hijabi raps to celebrate Muslim women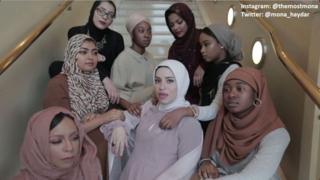 A pregnant hijabi's rap video on celebrating Muslim women who wear the headscarf has had support online, though some conservatives are against it.
Hijab and rap - do they mix? One woman certainly thinks so.
Syrian-American Muslim poet and activist Mona Haydar, 28, put out her first rap song, Hijabi, on Muslim Women's Day earlier this week.
And the unique music video has received a warm response, with people using the hashtag #hijabiXmona to show their support.
However, some claimed it contravened Islamic values.
The video, which was shot in one day, features an eight-months pregnant Mona, rapping about wrapping her hijab, and a diverse group of veiled women dancing and singing along.
She told the BBC: "I'm only interested in growing a more kind and loving world and that is my goal and intention with any and all the work I do."
Repeating questions hijabis often face, the lyrics go: "What that hair look like? Bet that hair look nice. Don't that make you sweat? Don't that feel too tight?"
She continues: "So even if you hate, I still wrap my hijab, wrap my hijab, wrap my hijab...Keep swaggin my hijabis, Swag-swaggin my hijabis."
Responding to the video, one woman said it made her feel "gracious, empowered, and loved". Others added that the video was "dope" and "slay".
But some held a different view, labelling the video as, "extremely disturbing and wrong on every level... hijab is not only a piece of cloth on our head but every action we undertake should embody hijab and piety."
Another added that while the video was "empowering and catchy... hijab is all about modesty and humbleness in attitude, and this video represents the complete opposite".
Commenting on some people's shock that she was pregnant in the video, Mona told the BBC: "Why is it so shocking for a pregnant woman to continue living her own life while growing new life inside her? As a woman who believes that all bodies are good and beautiful, it brings me joy to dismantle the societal structures which try to dictate to women what our bodies should look like. "
---
You might also like:
---
Mona, who hails from Michigan and now lives in New York, is no stranger to the media spotlight.
She and her husband Sebastian Robins, who converted to Islam, previously headed a 'Talk to a Muslim' initiative in Cambridge, Massachusetts to fight Islamophobia, and handed out free doughnuts and coffee.
Several people online said Mona's latest song reminded them of Deen Squad, a duo of Muslim rappers singing popular songs with an Islamic twist, (Deen is Arabic for religion).
The group's latest hit, Cover Girl (Rockin' That Hijab), featured 52 hijabi icons from around the world.
Other Muslim female artists also don't see a headscarf as restricting them from making music.
Malaysian singer-songwriter Shila Amzah became popular after appearing on a Chinese singing show and her YouTube videos have had hundreds of thousands of views.
And Yuna, the first Malaysian singer-songwriter to win over the American market, made the US billboard charts and even duetted with American singer-songwriter Usher.
"By the time I got into music, I was already wearing the scarf all the time, and it's really personal to me and my Muslim beliefs, so I decided to keep it and find a way to work around it. I don't see it as a restriction or limitation - I can still be me and get into music and be an entertainer," said Yuna.
Yuna told the BBC: "A lot of people probably don't agree with me doing music but why should I change? I've been doing this my whole life.
"The way I practice my religion is mine, it's not someone else's."
By the UGC and Social News team