A fitness campaign for testicular cancer, and #BlackMonday in South Africa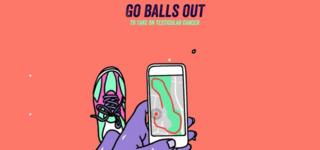 People are drawing outlines of penises and testicles using their fitness trackers to raise awareness for testicular cancer. Criticism has been levelled at a campaign protesting President Jacob Zuma's latest cabinet reshuffle, and parents share images online of their children and dolls of a different colour.
New Zealand's cancer awareness campaign
April is Testicular Cancer Awareness Month, and an awareness campaign in New Zealand is encouraging Kiwis to "Go Balls Out".
The online campaign, #GoBallsOut, calls on people to go out for a special kind of run - one that would outline the shape of a penis and testicles on their fitness trackers.
What do you do once the run is complete? Upload a screengrab of the map to social media and challenge others to take it on.
The Go Balls Out website reads: "Testicular cancer is the most common cancer affecting men between the ages of 15-39. Sadly, awareness of this cancer, how to check for symptoms and how to reduce the risk is shockingly low.
"It's proven that regular exercise prevents a number of cancers, so get out in the park, on the streets or wherever you want..."
"Wide open places like parks or sports fields are perfect" the campaign website suggested.
But if you're still don't know how to work out your own route, the website has examples of phallic routes around New Zealand, posted on its website.
While most of those who took part in the campaign stuck to traditional runs - albeit with a very untraditional route - some outlined the male anatomy in other ways.
One Facebook user chose to fly over Auckland in a penis-shaped flight path.
And a Londoner living in New Zealand shared an image showing the route she mapped out using a kayak, and nominated two others to undertake the challenge.
While another Kiwi said he mowed the shape onto his brother's lawn.
You can read about testicular cancer and how to identify common symptoms here.
And Testicular Cancer NZ has a video on how men can examine themselves.
---
#BlackMonday
A campaign protesting against South African President Jacob Zuma's latest cabinet reshuffle is calling on people to wear black and use the hashtag #BlackMonday on social media. However, it has been criticised by some as having a "racist agenda".
Last week, President Zuma sacked finance minister Pravin Gordhan, prompting street protests and an outcry among some of his senior party leaders.
Under the slogan "Our Souls Are Not for Sale", the Black Monday campaign is calling on South Africans to unite behind constitutional values and hold the government to account.
"As a sign of our discontentment, we invite all disapproving South Africans to stand together behind the #BlackMonday movement. This coming Monday (3rd April 2017) we will all wear black in solidarity and use the tag to further the cause.
"We can no longer be passive. Let us start the change we wish to see in our beloved country, and save the legacy that Nelson Mandela, Ahmed Kathrada and liberation leaders fought for."
Climate activist and Miss Earth South Africa Director Catherine Constantinides tweeted that although not everyone could attend public protests, wearing black would "speak volumes".
At a protest on Monday, Congress of the People President Mosiuoa Lekota said that the president is "today leading in undermining the constitution".
And a CEO in Cape Town added: "I support #BlackMonday - As a gesture of solidarity with all South Africans who believe in the great potential of our country!"
But critics of the protest movement said it was absent "for the issues that disproportionately affect poor black people".
Some of them who claimed the movement was focused on the interests of white people used the hashtag #WhiteMonday instead.
One South African Facebook user, now living in Thailand, said there was a "racist agenda behind this protest" because it excluded numerous other issues from its movement.
"Funny how apartheid beneficiaries are now suddenly the moral compass of South Africa," a Kimberly-based law student tweeted.
"Remember the time we wore black for racial injustices, unemployment, poverty or when banks colluded our currency? No? Me neither," another highlighted.
---
Kids and dolls
Parents are sharing images online of their children with dolls of a different race. This comes after South Carolina based mother Brandi Benner posted an image of her two-year old daughter Sophia and her doll Meagann Cece.
Brandi said on Facebook that after Sophia had picked out her doll at the store, the cashier - an elderly woman - questioned her daughter's choice: "Are you sure you want this doll honey? She doesn't look like you. We have lots of other dolls that look more like you."
Sophia responded that she and the doll were very much alike: "She's a doctor like I'm a doctor. And I'm a pretty girl and she's a pretty girl. See her pretty hair? And see her stethoscope?"
Brandi, a stay-at-home mum, told the BBC that this was a "proud mum moment".
She added that the reaction has been mostly "love and encouragement - a feeling of community and togetherness".
Brandi also said that she did not want people to go on a "witch hunt" for the elderly cashier woman whose generation was "unfortunately the epitome of white privilege".
And upon hearing the story of Sophia and her doll, other parents also shared images of their children and dolls.
Commenting on the reaction to her five-year-old daughter's choice, one mother said: "I've had a family member make a sarcastic remark, asking why she has a black doll. My response? Because it's the one she picked out.
"She doesn't care that the doll doesn't look like her...heck, looking the same is boring! I'm definitely glad that my children are seeing that we embrace differences."
Another posted an image of her daughter with her doll Rose: "She takes her everywhere with her and has actually had people make it a point to mention to her that her baby was different colour and she always says: 'Yes I have pretty vanilla skin and she has pretty chocolate skin and that's why she's my beautiful chocolate Rose'."
A mother living in Nebraska also shared an image of her son who has two baby dolls of a different race: "They are the dolls he loves and he doesn't see colour... Kids don't see an issue with skin colour unless we tell them there is one. Kids are born neutral. "
By the UGC and Social News team