Memorial for dog killed in Stockholm attack, and Arabella Kushner serenades Chinese leader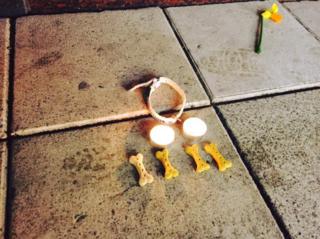 A memorial for a dog killed in the Stockholm lorry attack receives support online, a video of US President Trump's granddaughter singing in Mandarin to President Xi Jinping goes viral in China, and Australian journalists rally around a presenter who was caught off guard on live television.
Dog killed in Stockholm lorry attack commemorated
An image showing a memorial for a dog killed in central Stockholm when a lorry rammed into people has drawn attention online after it was posted on Facebook.
Four people - a British national, two Swedes and one Belgian - were killed in the attack on Friday.
Markus Krantz, 37, and his girlfriend who live just north of the capital went to the scene of the attack after it was re-opened to the public, and noticed that nothing was there to recognise the death of the dog called Iggy.
When it came to light that Iggy was a rescue dog, Markus returned to the scene and left the dog flowers and a message on their behalf.
The original image posted by Markus on Saturday from the scene of Iggy's death - which has over 48,000 reactions - shows dog crackers, candles and a leash that belonged to his dog Ebba who died in 2016.
Markus told the BBC that he and his girlfriend heard that a dog had been killed but were unable to find anything where Iggy last walked that specifically recognised the dog.
"We decided to put down flowers and dog crackers, and light a candle," he said.
"My mom asked me to take a picture and send it to her and since it went online, the response has been 100 per cent positive. Just pure love," Markus continued.
Following this, Markus discovered that Iggy was a rescue dog from Dogs Aid Animal Sanctuary in Dublin. Markus currently has five dogs, all rescued from Romania.
Dogs Aid asked Markus to return to the site and leave a message on their behalf: "Iggy Run Free, from all ur friends in Dogs Aid in Dublin."
On Facebook, the sanctuary said: "We are deeply saddened to learn that one of our dogs was killed in the terrorist attack in Stockholm. DOGS AID IGGY found his beautiful home in Sweden in 2012."
More people have paid a visit to the memorial site. Pictures online show a stuffed dog, a child's drawing of a dog, crackers, a rubber dog bone toy, candles and flowers.
And Facebook users sent their love to Iggy, with one sharing an image of "doggy heaven".
---
Arabella Kushner in Chinese social media spotlight
She is part of one of the most famous families in the world. But Arabella Kushner has become a star in her own right.
A video of the five-year-old granddaughter of US President Donald Trump singing Chinese folk song "Jasmine" and reciting ancient poetry to President Xi Jinping and his wife on their recent US visit has been viewed tens of millions of times on Chinese social media - 19.6 million times on just one website.
The video of the five-year-old was originally posted on her mother, Ivanka's Twitter and Instagram accounts on Friday.
And the little girl has been widely praised by Chinese people using the hashtag #TrumpGranddaughterJasmineFlower on the popular microblogging website Sina Weibo.
User Dingji Shinnei Gaoerfu Yunyida said: "The kids in the Trump family are very well-brought up," while Henuan Dehuo wrote: "I suddenly feel so much better about the US."
Sina Weibo user Aiwan Gunde Houzi added: "This is just like me when I was a kid visiting relatives' homes."
But not everyone admired the performance.
Jimo Watongyu described Melania Trump's "poor manners" for remaining seated throughout the performance while everyone else was standing.
"She is so young but she has already been turned into a political chess piece," Lizhi Zuofu Heimeng Meizhi added.
Earlier this year, Ivanka Trump also shared a video of Arabella singing a song for Chinese New Year.
---
Caught off guard
Australian journalists are rallying around freelance newsreader and producer Natasha Exelby who was caught "daydreaming" on a live ABC News 24 television broadcast.
Ms Exelby, who recently returned from a role with Turkish broadcaster TRT, was seemingly preoccupied with a pen she was holding when she suddenly realised she was live on air.
Not long after, rumours circulated online that she had been axed from the news outlet. Australia's The Daily Telegraph reported, "ABC24 bosses banned Exelby" from future on-air roles though it did not cite its sources.
A petition has been launched calling to "reinstate" Exelby: "Compared to the atrocious abuses of journalistic independence and integrity, the mauling of facts, and the failure to speak truth to power - this brief mistiming is nothing.
"It doesn't diminish Natasha Exelby as a professional, it doesn't affect public confidence in her as a journalist or presenter."
Many found humour in the blooper, with one user sharing an image of Edvard Munch's iconic "The Scream" painting, which appeared to resemble Exelby's face during the incident.
Some Australian journalists came out in support, using the Twitter hashtag #putyourbloopersout.
Journalist and news presenter Janice Petersen, of Australia's public broadcaster SBS, tweeted a screengrab of when she herself had been caught applying lipstick on live television, saying: "Yep. It happens."
"I started eating a Tim Tam [chocolate biscuit] live on air during rolling coverage of a leadership spill," Sky News Australia journalist Ashleigh Gillon said.
"I danced in my seat in the news booth in between audio grabs, not realising we were live streaming the news bulletin," Lisa Barnes added.
"I once instantly ruined an April Fools Day joke by stating on air 'And now for an April Fools Day joke...'," a Sydney-based former radio host continued.
Exelby has tweeted out her thanks.
Australian Senator Sam Dastyari said: "The idea that someone would be punished for what is a very innocent mishap is extraordinary."
In 2013, Exelby apologised after getting into a fit of giggles while reading out serious news stories for Channel Ten.
The BBC has reached out to ABC Australia for comment.
By the UGC and Social News team. Additional reporting by Georgina Rannard and Jeff Li