Saudi woman seeking asylum 'forcibly' returned home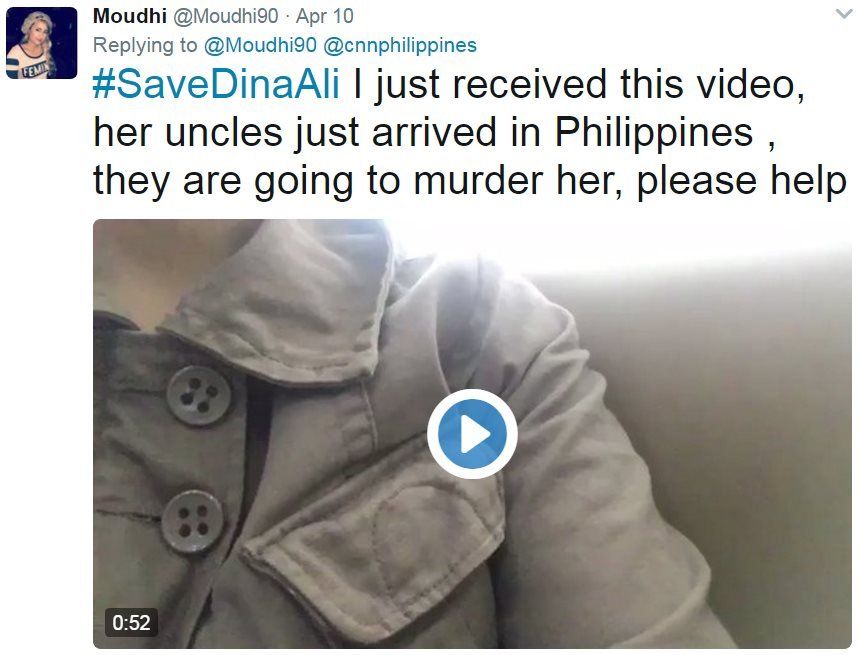 Social media users are rallying behind a Saudi woman who claims she was forcibly returned to the kingdom by her family as she tried to seek asylum in Australia.
Dina Ali Lasloom, 24, was reportedly en route from Kuwait to Australia via the Philippines, but was taken back home from Manila airport by her family.
She used a Canadian tourist's phone to send a message, a video of which was posted to Twitter, saying her family would kill her.
She is said to have arrived in Riyadh on Tuesday night and her fate remains unknown. There is an online appeal with the hashtag #SaveDinaAli aiming to help her.
However, some people have cast doubt on the story, and the Philippines Bureau of Immigration denied ever detaining ever.
The Saudi embassy in the Philippines confirmed that the citizen had returned to Saudi, adding that what happened was a "family affair".
A video posted on Twitter allegedly shows Dina arguing with airport officials saying: "You're not helping, you don't know them," referring to her family. A Saudi feminist who obtained the video from an eyewitness said Dina was "forced onto the plane by her two diplomat uncles and Filipino police".
Some followed the flight path online, and a small group of journalists and citizens were said to have waited for her at the airport in Riyadh but saw no sign of her.
A Saudi-based reporter added that the Saudi Human Rights Commission is following the case. Also, an online petition to "save Dina" directed to Australian authorities, was set up by a group calling itself Human Rights for Atheists, Agnostics and Secularists.
Others shared images reportedly showing a patrol of security cars waiting outside the airport in Riyadh.
A woman who says she escaped Saudi Arabia in 2015 also told Dina in a video message that she was "brave and strong" for doing what she did.
Some social media users touched on religion, with one Saudi ex-Muslim reiterating his disdain for Islam in light of the incident. But one Twitter user said that Dina's "violent uncles and men in her life do not belong in Islam at all or any religion".
The online chatter over Dina's fate was taking place as the Filipino president arrived in Saudi Arabia on an official visit as part of a Gulf tour.
By the UGC and Social News team