Moscow's angry UN envoy, and a pricey Szechuan sauce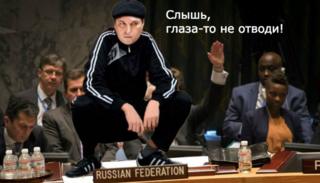 Russians online are lambasting their envoy to the UN after he delivered harsh words to his UK counterpart, Chinese users ridicule the price tag of a limited edition 1998 McDonald's Szechuan sauce, and an Indian actor calls out his peers who promote skin-lightening creams.
'Don't you dare insult Russia!'
Russian social media users are criticising the "undiplomatic" language used by their envoy to address his British counterpart at the United Nations.
Russia vetoed a UN Security Council vote on Wednesday that would have condemned the suspected chemical attack in Syria last week.
Vladimir Safronkov, Russia's Deputy Ambassador, told UK envoy Matthew Rycroft: "Look at me! Don't turn your eyes away. Why are you looking away?", adding: "Don't you dare insult Russia ever again!"
Users pointed out that in the address, he used the informal "you" in Russian or "ty", which is only used when speaking to small children, friends or family. This is in contrast to the more polite and formal "you" or "vy".
One anti-Kremlin user tweeted an image depicting Safronkov as a "gopnik" - a pejorative Russian term similar to "chav".
And artist @Bezizyanov shared an image of the "brigade" of Safronkov, the Russian foreign minister and the foreign ministry spokesperson.
Safronkov's harsh words also went viral on Twitter and on Russian social network Vkontake (VK). One Telegram channel commented: "Russian chav at the UN Security Council meeting barking at the British diplomat."
A VK user said that the display was a "shame", while another added that it was akin to "lecturing school pupils".
But Russian state media says the envoy effectively "told off" the UK diplomat.
And one Instagram user who came to Safronkov's defence said: "Everyone seems to forget that he is first of all a Russian citizen and unlike many, he is a genuine patriot who's defending the interests of our Motherland."
---
Chinese poke fun at expensive 1998 Szechuan sauce
A McDonald's Szechuan dipping sauce - which was briefly available around the release of the 1998 Disney film Mulan - was sold on eBay for a hefty 14,700 US dollars.
And Chinese social media users on the Sina Weibo microblogging platform are ridiculing the sale.
Some said that the sauce was far removed from the bold flavours of true Szechuan (Sichuan) cuisine, distinct to the south-western Chinese province.
The UK-based seller said that he found the packet while cleaning out a really old car he had recently bought.
Commenting on the potentially hazardous consequences of eating a 19-year-old sauce, Feng Hailong 0911 said: "Daring to auction expired food? Where are Trading Standards?"
"I have a Coke from '82, can I also sell that?", ShirtwearingPoet added, and another: "It seems I've found a new business opportunity".
One questioned why anyone would buy a 20-year-old sauce: "Come into Chinese society, you can have your pick of a number of different spicy sauces."
The sauce recently featured in the American science fiction sitcom Rick and Morty, where Rick angrily says: "I want that Mulan McNugget sauce, Morty. That's my series arc, Morty. If it takes nine seasons, I want my McNugget dipping sauce Szechuan sauce, Morty!"
The official account for the show tweeted a plea at the fast food chain to bring the sauce back, and got a response, Rick-style.
An online petition for McDonald's to bring back Szechuan sauce has amassed thousands of signatures.
---
Indian actor calls out peers promoting skin-lightening creams
Attitudes to skin colour in many parts of the world promote the notion that fairness is beauty.
To combat this, an Indian actor is singling out his peers who endorse fairness or skin-lightening creams.
Abhay Deol posted a string of such advertisements on his Facebook page - some for international brands - which feature Indian actors and actresses.
They've been positively received on Indian social media, with some calling him "brave" for taking a "sensible stand on an important social issue".
In one post, Mr Deol said: "There's a lot more of these campaigns that are blatantly, and sometimes subtly, selling you the idea that whiter skin is better than darker skin.
"You have to stop buying into the idea that a particular shade is better than others."
The actor's comments follow remarks by an Indian lawmaker who reportedly downplayed an attack on Africans students in March.
One of the actresses singled out by Mr Deol allegedly criticised him in now-deleted tweets by saying that his own cousin had promoted such a cream.
Many Indians on social were pleased that there was "finally some sense in Bollywood".
But others said the notion was simply down to "Indian people falling for fair skin". One Facebook user continued: "In America, they have creams to tan your skin, and that too sells good! So it all depends on the society you live in....But instead of focusing on fairness creams, India should focus on a younger, healthy and radiant skin!"
By the UGC and Social News team; Additional reporting by BBC Monitoring in Moscow, BBC Monitoring's China team, and BBC Monitoring in Delhi