Trump Jr's "very fake news" T-shirt, and Bernie Sanders in a giant ice cream tub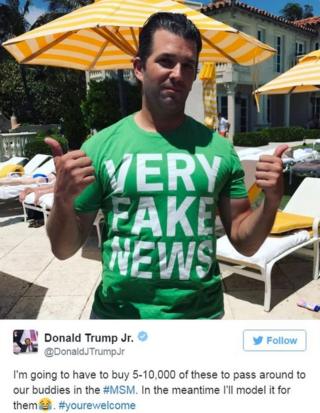 A T-shirt worn by the US president's son disparaging the mass media has awoken conspiracy theories online, while social media users have stirred up elements of Bernie Sanders' campaign following an image of the US politician addressing employees from a giant tub of ice cream.
"Very Fake News"
Donald Trump Jr had tweeted a photo of himself donning a green T-shirt featuring the words "Very Fake News", captioned: "I'm going to have to buy 5-10,000 of these to pass around to our buddies in the #MSM [mainstream media]. In the meantime, I'll model it for them."
And some on Twitter responded by sharing images of the president's son wearing the T-shirt photoshopped into historical events.
One shared an photo of Trump Jr showing off his "Very Fake News" T-shirt with a backdrop of US former astronaut John Young landing on the moon in 1972.
The image is an allusion to the conspiracy theories which claim some, or all, of the moon landings were staged by Nasa.
While another user shared an image of Trump Jr in the green shirt photoshopped into an illustration of the American Revolution.
Another take on Trump Jr's T-shirt showed a bare-chested Russian President Vladimir Putin with angel's wings, featuring the word: "Besties."
But one person on Twitter found a different use for the T-shirt, turning it into a word puzzle.
---
The revolutionary tub of ice cream
On the other side of the US political divide, an image of Bernie Sanders making a speech from a podium that happened to be a huge tub of ice cream has also brought out some laughs.
The US politician tweeted the image of him gesturing while addressing Ben and Jerry's employees, captioned: "When we stand up and fight back we can change the country in very positive ways."
"This image of Bernie Sanders preaching from a Ben and Jerry's pint podium is a fantasy I've had for some time now," one user said.
Another shared a short skit involving himself, Mr Sanders, and the ice cream.
Mr Sanders visited the ice cream chain's factory in Vermont on Friday to speak to employees and also tried some new flavours.
"Y'all hear about the new Ben and Jerry's flavour?? It's called 'Feel the Bern' and it's got chocolate, sriracha and an actual size Bernie Sanders," one continued.
And a meme of the original image captioned "I scream, you scream, we all scream for progressive social reform" proved popular online.
Last year, Ben and Jerry's launched a limited edition ice cream called "Bernie's Yearning" in support of the former presidential candidate.
---
Also by the UGC and Social News team:
Easter pop star 'Egg Sheeran' a hit
In pictures: Take your dog to work