Patrick the wombat dies, and Zara criticised for 'Pepe' skirt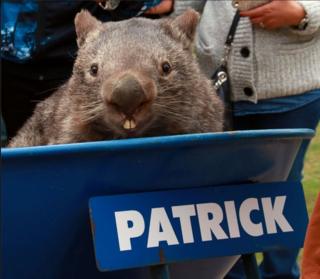 Social media users mourn the loss of celebrity wombat Patrick, and Zara is criticised for marketing a denim skirt featuring a lookalike of the "hateful" Pepe the Frog meme.
"Bucky-toothed heaven"
The death of Australian "celebrity wombat" Patrick, said to be the oldest bare-nosed wombat in captivity, has sparked tributes online.
The news has been announced on his Facebook page and by Ballarat Wildlife Park in Victoria where Patrick the wombat lived.
He was 31 when he passed and had come to the park in 1987 as an orphan after his mother was killed by a car. He was lovingly raised by Greg Parker and his family.
Wombats in captivity typically have an average lifespan of 20 years. The marsupials are also endemic to Australia.
He is "most famously known for greeting visitors in his blue wheelbarrow, his gentle nature, and his 'bucky-toothed' smile", the park said.
Reacting to the news, one Facebook user said: "So very sad to hear about Patrick! May he rest in bucky-toothed heaven!"
"I am lucky enough to have met Patrick several times and was planning to head to the park tomorrow. Rest in Peace you wonderful Wombassador," one said.
He was also mourned by those who did not get the opportunity to meet him in person.
"This made me cry. I never got a chance to travel to meet Patrick and now I'll never get that joy...I will miss his special bucky-tooth kisses," another added.
"My wife and I are heartbroken. We had planned a trip from the US to Australia at the end of this year to see Patrick. It's a pity we didn't get the privilege to meet him," one continued.
The Twitter account for Melbourne, Australia also sent its condolences: "Rest in Peace Patrick the Wombat, you were, and always will be, a true legend."
Ballarat Wildlife Park plans to erect a permanent memorial in his honour.
---
Controversy over Zara's skirt
Fashion chain Zara has reportedly pulled a denim skirt from its line which featured a design resembling the Pepe the Frog meme.
Some social media users expressed their anger at the company for using the "hate symbol" in their clothing.
The meme was created in 2005 by artist Matt Furie in a comic series called the "Boy's Club" but has increasingly been used by far-right groups.
While some online users said the company was seemingly "unaware" of the implications of using the meme, others said the fashion company had used hateful symbols in its clothing in the past.
---
You might also like:
---
"@zara, seriously? Pepe the Frog? Alt-Right? That's who your target customers are? Me and my wallet will be shopping elsewhere," one Twitter user said.
"Hey Zara, next time you're trying to capitalise on a meme maybe do a little research first" a US magazine wrote on Facebook.
Another Twitter user said he found that Zara had previously withdrawn handbags that featured swastikas in 2007 and outfits that resembled clothing victims of the Holocaust wore, for which the company repeatedly apologised.
But some said the meme was being given too much importance.
One Facebook user said: "Anyone offended by a cartoon frog needs to take a long hard look at where they are in life. What next? The 'liberal' fascists asking for the Simpsons to be taken off air?"
"Are you aware that a very slim number of people view it as offensive, most see it as a harmless meme?," another tweeted.
By the UGC and Social News team