Wigs and parting gifts for O'Reilly, and Islamabad airport scuffle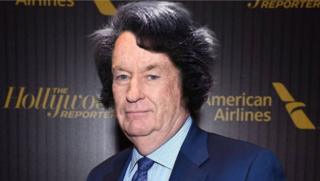 Some social media users react to Bill O'Reilly's firing with joy while others come to his defence and Pakistanis comment on videos showing a fight between a female constable and two passengers at Islamabad airport.
Bill O'Reilly's parting gifts
Some Twitter users are celebrating online following Fox News' decision to drop presenter Bill O'Reilly over sexual harassment claims.
However, many have also criticised the "targeting" of the host as a "typical spineless liberal move".
O'Reilly, 67, said the claims were "completely unfounded" although more than 50 sponsors have withdrawn ads from his show.
Members of the African-American community on Twitter, including author and film maker Tariq Nasheed hit out at the host: "On behalf of the black community, I present Bill with a James Brown wig as a parting gift." In March, O'Reilly made fun of a black congresswoman's hair saying he was too distracted by her "James Brown wig", for which he later apologised.
Previously, O'Reilly convinced Pepsi to drop hip hop artist and actor Ludacris from one of their ads, accusing him of "degrading women". And one Twitter user contrasted this to present day, with Ludacris starring in the "#1 movie in America" the day O'Reilly was fired.
"Bill O'Reilly got fired! Serena Williams is pregnant! Beyonce will deliver Red and Yellow soon! Tomi Lahren is out of a job! GOD IS GOOD," another added.
"Bill O'Reilly is gone and Alex Jones has gone silent. Things are looking up, folks," one continued.
But some had a more measured response: "Sad part is, Bill O'Reilly isn't being fired because he harassed women, it's because we weren't supposed to find out about it."
And political commentator Dave Rubin tweeted: "I don't know what Bill O'Reilly did or didn't do, but the rejoicing of the destruction of public people is becoming increasingly dangerous."
Others lashed out at liberals for focusing on Bill O'Reilly instead of former US president Bill Clinton who was accused by three women of sexual assault in 2016.
"It's not considered rape if you're a democrat...Liberals hate Bill O'Reilly but love Bill Clinton #LiberalLogic," another tweeted.
---
Islamabad airport scuffle watched by thousands
A video showing a scuffle between two female passengers and a female constable at Benazir Bhutto International Airport in Islamabad has been watched thousands of times over on Pakistani social media.
The Federal Investigation Agency (FIA) suspended the female constable over the incident which allegedly broke out over "missing toilet paper".
The footage was initially aired by journalist Shakeel Qarar on privately-owned Pakistani Dawn News TV on 15 April and posted on its YouTube page.
However, several videos of the incident have since appeared online. Some showed a security official hitting and dragging the women while in others, the Norwegian passengers arguing with airport officials.
Politician Imran Khan labelled the altercation as "shocking and condemnable brutality" by the FIA.
One Twitter user added: "Another disgusting act by [the] heaven of terrorists...Land of zero tolerance, inhuman behaviour."
"Officials and others at Islamabad Airport watching this so inhumanly should be punished," news anchor Nadeem Malik continued.
But some said the passengers had "misbehaved" and instigated the argument.
"Too many Pakistanis from the West think they can get away with abusing officials when they travel back to Pakistan," one tweeted.
Another said that the women were "responsible for the chaos" because tissue in toilets are not part of the FIA's "jurisdiction". According to local reports, one of the passengers asked an FIA official at the airport for toilet paper which angered the official.
And one Twitter user shared a different account of the incident: "It looks the Norwegian ladies were fighting with every other person at #Islamabad airport. Though I don't support beating them, but [the] law [comes] first."
Additional reporting by Wais Bashir
---
Also by the UGC and Social News team:
'Rogue' Radioshack Facebook page lashes out at customers
General election 2017: No! 'Larry the cat is not dead'