Calls to boycott French election and Saudis celebrate exam change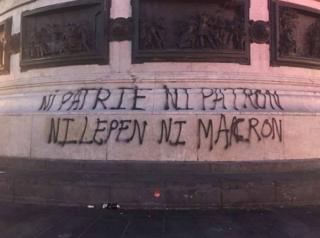 Some in France who are unhappy with the presidential election results are calling for a boycott of the run-off on 7 May, and Saudi students tweet their joy after the announcement that school exams across the country will not coincide with Ramadan.
#SansMoiLe7Mai
The French presidential run-off on 7 May will pit centrist Emmanuel Macron against far-right leader Marine Le Pen.
And some Twitter users who supported the nine other candidates in the race aren't pleased with the choice they are now faced with, calling for a boycott of the second round of the election.
While thousands used the hashtag #SansMoiLe7Mai (Without me on 7 May) to express their unwillingness to vote, critics of the choice said it was an "unacceptable" one and referenced the recent US presidential election.
One of the popular images shared using the hashtag showed graffiti, that rhymes in French and reads: "Neither fatherland nor boss, neither Le Pen nor Macron".
"This morning, we are asked to choose between the hatred of foreigners or hatred of the poor. Super, everything is fine," one Twitter user said.
Another tweeted their intent to boycott the 7 May election, while one added: "We will not vote for Le Pen, we will not vote for Macron. They can go to hell."
"In the second round, you have a choice between voting for the cause of the problem or one of its consequences," a user continued.
One jokingly said: "The presidential elections will be #SansMoiLe7Mai since I have moved to the planet Aldebaran [a giant star 65 light years from the sun]."
---
You might also like:
---
But some online are urging people to go out and vote, drawing parallels to the US presidential election.
"The hashtag #SansMoiLe7Mai is unacceptable. Do you remember our reaction after [US President Donald] Trump was elected? Do you want the same thing for France?" one Twitter user questioned.
Another tweeted a smiling gif, captioned: "When Marine [Le Pen] sees the hashtag #SansMoiLe7Mai."
And one voter pleaded: "Abstention has always benefited the FN [National Front]. I beg you, don't do it [boycott the election]. In any case, on 7 May, I will go vote."
---
Saudi students celebrate exam date change
Saudi students are celebrating a decision to change the date of school exams nationwide so they are held before the start of the Muslim fasting month of Ramadan in late May.
On Saturday, Saudi King Salman announced the decision alongside a series of decrees including some which reversed public sector pay cuts.
Hundreds of thousands tweeted their jubilation, posting humorous memes and videos though some raised concerns they now have less time to prepare. There have also been online calls for the decision to be rolled out in other Gulf countries.
Fasting Ramadan - the holiest month in the Islamic calendar - is one of the five pillars of Islam and those observing the fast abstain from all food and drink from sunrise to sunset.
A widely shared video shows some Saudi pupils running and screaming with joy after watching the news on the announcement on TV.
Another video, captioned "my current state", showed a man giggling to a catchy tune.
One said they would be dancing at school on Monday and others tweeted praise to the Saudi king.
But some tweets expressed concern over what the sudden decision to wrap up curriculums in the next month will mean for students and teachers alike.
Some speculated teachers in Saudi schools would sound like auctioneers as they scramble to speed-teach their classes before the exams' deadline.
Another tweeted an image of Nasa scientists using a large blackboard in 1961: "The situation in classes and lectures tomorrow."
And students elsewhere in the Gulf demanded a similar change in their exam dates under the slogan "our Gulf is one", with local iterations of the Arabic hashtag "No_exams_in_Ramadan" appearing in Qatar, the United Arab Emirates, Kuwait and Bahrain.
With nearly a four-month summer vacation now facing Saudi students, who could blame them?!
By the UGC and Social News team; Additional reporting by BBC Monitoring's Middle East team