Giant bunny death reaction and calls for Egyptian president to step down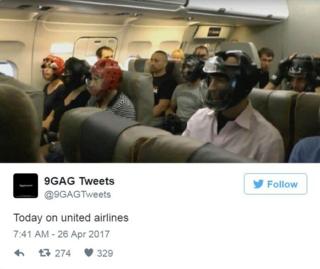 Social media users react to the death of a giant bunny transported on a United Airlines flight and some Egyptians online call for their president to step down.
"Carrot and stick of passenger management"
United Airlines has had a difficult few months.
Earlier in April there was an uproar after a man was violently removed from a United flight. And in March the airline was heavily criticised after a leggings row.
Now after reports emerged that a giant bunny called Simon died in the cargo hold of a United flight, one social media user tweeted: "Carrot and stick of passenger management strikes again."
But others said the airline wasn't to blame: "Rabbits do not handle stress well...the breeder should have known better then to subject that rabbit to the stress of cargo."
Criticising the airline, one Facebook user questioned: "Did they overbook the cargo hold? Did they have to re-accommodate Simon to make way for a United employee's cat? Either way, this is hare-raising stuff."
"I bet it was dragged out of its cage by the ears to make room for the staff's rabbits and thrown out of the plane," another added.
"They [United Airlines] might as well all hop off to the unemployment desk," one continued.
Though some directed their criticism elsewhere including one user who wrote: "This is like Animals 101. Fact: Rabbits are very prone to suffer from heart conditions, especially if they are large in size. Fact: planes cargo holds are incredibly noisy and animals there can die from stress. Poor rabbit."
"I'm sorry but how is this United's fault? Don't take your animals on flights, it's traumatic for them, especially a 9 hour one," one Facebook user continued. And some users reacted with a play on words: "Found it pretty ironic he died landing at [Chicago's] O'Hare [airport]."
While one said: "Very suspicious a passenger E. Fudd was listed in seat 14a."
---
#We_don't_want_Sisi
Some Egyptians online are calling for President Abdul Fattah al-Sisi to step down.
In a Q&A session with a group of young people on Tuesday, Mr Sisi responded to a question on how he would react if he lost the 2018 presidential election, saying: "If Egyptians do not want me, I will not remain a second in this post. I cannot accept to be in my place against your will."
Shortly after, tens of thousands asked him to do just that, tweeting the Arabic hashtag "#We_don't_want_Sisi".
Some described the president was a "failure" and a "laughing stock".
Mr Sisi, a retired field marshal, was elected as president in 2014 with 97 per cent of the vote. His predecessor Mohammed Morsi was ousted by the military in 2013 and is now serving lengthy prison sentences.
"Enough with failure, enough with detaining people, enough with selling the land, enough with the military rule, enough with bloodshed and enough with humiliation and submission. We want an elected civilian president," one user said.
Another tweeted: "Sisi has sworn to God three times that he would not remain in his position one more second if Egyptians do not want him. So, step down, you failure. You have made us the laughingstock (sic) of the world."
Others added that they didn't want either Sisi or anyone from the military in charge, telling the president: "Return to your barracks."
"Sisi said if people do not want me, I would leave. People responded by the hashtag #we_don't_want_Sisi that trended in seconds. How loved you are, Sisi," another said.
By the UGC and Social News team; Additional reporting by BBC Monitoring in Cairo