Making fun of the figures in Abbot's interview, and urging Homaidan al-Turki's release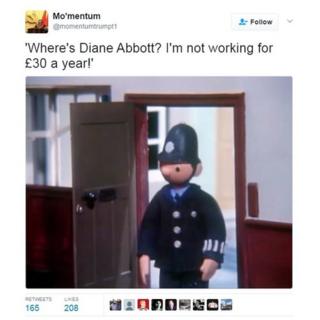 Twitter users leap on Diane Abbott's confusion over police funding, and an online campaign calls for the release of Saudi national Homaidan al-Turki from a Colorado prison.
'I'm not working for £30 a year'
Diane Abbott's mathematical skills were put to the test on Tuesday morning when she was interviewed on LBC radio and Twitter leapt on the wreckage which followed.
"I did seven interviews that morning and that was the seventh, and I mis-spoke," explained the shadow home secretary later on The Daily Politics.
Responding on Twitter to Ms Abbott's explanation on The Daily Politics, many remained unconvinced by somebody who got it right "85% of the time".
The shadow home secretary was on Nick Ferrari's programme to explain Labour's plans for extra police officers. But when asked how much it would cost, she replied £300,000, which works out at £30 an officer.
In an attempt to rectify the mistake she went on to correct herself: "No, I mean, sorry, they will cost, it will cost about, about £80 million."
Ferrari pointed out this second figure would mean a police officer's annual salary would be £8,000.
More than 12,000 tweets have been generated since the gaffe. @PhillipBeeson posted: "Jeremy Corbyn 'Note to self: never let Diane Abbott on the radio again with any figures'. That interview was embarrassing. #lbc #carcrash"
But asked on a campaign visit to Southampton if he was embarrassed, Labour leader Jeremy Corbyn said: "Not at all, we've corrected the figure and it'll be absolutely clear now, today and in the manifesto. I'm not embarrassed in the slightest."
There was also some support for the shadow home secretary on social media. @AmyJ_N4 tweeted: "Hate the way Diane Abbott gets torn apart for what was clearly a slip of the tongue. A handy distraction from good policy announcement #GE17"
@Angela Marston tweeted: "Diane Abbott struggling with the numbers is very poor. But in fairness I've also not heard one Tory explain how much Brexit will cost."
You might also like:
The LBC interview was one of several the shadow home secretary was carrying out regarding the policy, including Good Morning Britain and BBC Radio 4's Today programme.
On Today Ms Abbott explained Labour wanted an extra police officer to be put on the beat in every electoral ward in the country.
"What local police forces are crying out for is more manpower," she added. "In the Metropolitan Police, although they have not cut police numbers, they have cut civilian staff and in practice that means there are fewer policemen available."
---
#AlTurkiParole
An online social media campaign is calling for the release of Saudi national Homaidan al-Turki, imprisoned in the US since 2006.
At the time, a Colorado court sentenced him to 28 years on several counts, including the sexual assault of his Indonesian housekeeper.
It was later reduced to a minimum of eight years to life on grounds of good behaviour. Al-Turki's defence say the rape charges were "fraudulent" and prompted by a failed terrorism charge against him.
A committee is due to meet on 2 May to deliberate Al-Turki's eligibility for parole.
The Twitter term #AlTurkiParole has been used by hundreds of thousands from around the Middle East - including prominent clerics in Saudi and elsewhere in the region - with the aim to influence the decision.
Al-Turki's son, who said he hasn't seen his father in 11 years, spearheaded the online campaign, calling on people to use the English-language hashtag.
One of Al-Turki's daughters tweeted that her father has been eligible for parole for four years, adding: "It is time he is granted the parole to be reunited with us."
Another of his daughters shared an image of prayer beads, saying the session was scheduled for midday in Colorado on 2 May.
Several Twitter users also shared video messages of support: "This a message on behalf of all Saudis to the merciful justice system in America. Please, free Homaidan. We cannot take this anymore."
"Homaidan has already served the minimum sentence and now deserves parole... if not legally then for humanitarian reasons," one user tweeted.
Saudi cleric Awad al-Qarni continued: "We ask Colorado to please grant Homaidan the chance to live his life around his family."
And prominent Kuwaiti cleric Nabil al-Awadhy also tweeted his support. Al-Awadhy's citizenship was revoked several years ago for "undermining" his country's interests.
Elsewhere in the region, users shared video messages and images in solidarity, from Algeria to Al-Aqsa Mosque in Jerusalem.