Stephen Colbert lambasted for 'homophobic' attack on Trump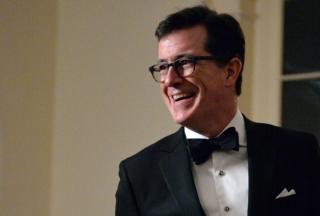 US comedian Stephen Colbert has come under fire for an anti-Trump monologue which some people have said included a "homophobic" slur.
Speaking on his CBS show The Late Show with Stephen Colbert, Mr Colbert suggested US President Donald Trump and his Russian counterpart Vladimir Putin engaged in homosexual activity together.
Addressing the president, he added: "Sir, you attract more skinheads than free Rogaine. You have more people marching against you than cancer. You talk like a sign-language gorilla that got hit in the head."
He made the comments following an interview in which Mr Trump told another CBS programme host, John Dickerson, that his show was "fake news".
The strong wording used in the verbal attack on the president prompted social media calls for CBS to #FireColbert, although others defended him.
An outspoken supporter of the president who took part in #GaysForTrump was among many who labelled Colbert's rant as "homophobic" and "disgusting".
"It's truly amazing. Liberals scream about homophobia every single day but when Colbert goes on a homophobic rant...crickets," another added.
Some were more bothered by the attack on the president himself, calling for a boycott of CBS advertisers.
Early in April there was an exodus of advertisers from Fox News' most popular show, The O'Reilly Factor, because of sexual harassment claims against presenter Bill O'Reilly. He was subsequently dropped.
One Twitter user who came to Mr Colbert's defence said: "Sad truth of #FireColbert is that these Conservatives actually think an off-color joke is the same as O'Reilly's serial sexual harassment."
And user @bourgeoisalien added that Republicans were "offended" by things like Colbert's "joke" and "women's rights", but weren't bothered about "kids losing healthcare" or the "poor going hungry".
Some referenced Mr Trump's obscene comments about women, which he made in a video that emerged prior to the US election.
"Literally every Conservative that is tweeting #FireColbert tweeted about how freedom of speech is under attack like five days ago," @emilyorl wrote.
Last week a free-speech row erupted after a talk by US conservative commentator Ann Coulter at the University of California, Berkeley, was cancelled.
And a popular tweet by @Breznican read: "#FireColbert is trending because comedians scare the hell out of this corrupt, evil presidency. They speak truth."
By the UGC and Social News team