May the Fourth always be with Carrie Fisher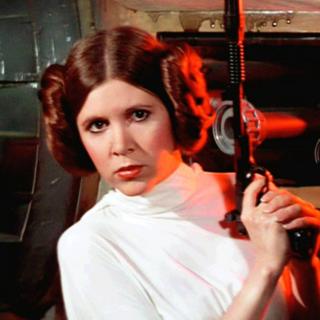 It's May the Fourth and Star Wars devotees on the internet have not let us down.
Referring to the phrase "may the force be with you", eager fans set the tone early: On Wednesday @kirkymcjerky wrote, "tomorrow is may 4th which means for every #starwars nerd like myself it's the best day".
But Carrie Fisher, who died in 2016, is the real star this year. The actress has played Princess Leia across many Star Wars films and her straight-talking style about politics, mental health and women's rights later made a hero amongst feminists and Star Wars fans alike.
"Today feels like the perfect day to remember the magnificence of Carrie Fisher" said @pandamoanimum, tweeting a picture of Carrie telling American TV host Stephen Colbert that she had been asked to lose weight in preparation to wear the famous gold bikini.
Carrie made her own joke about the date in the interview, quipping "They want to hire about three-fourths [of me] and so I have to get rid of the fourth. The fourth can't be with me".
Her character's rise to power in the trilogy was also celebrated - "The Princess who became a General will always be my Princess. Remembering #CarrieFisher this May 4th", commented Laura on Twitter.
The loss of Ms Fisher - whose semi-autobiographical novel Postcards from the Edge detailed her experience of drug dependency - was felt keenly today by other social media users who simply tweeted their tributes.
"I'd like to take today to remind everyone for the 500th time that I miss Carrie Fisher", said @totallypeachy, while @outcastspice declared "Today is wear glitter for Carrie Fisher day. May the 4th be with us all".
Fame, Love and Addiction - Carrie Fisher Obituary
Meanwhile, ABC News chose May the Fourth to reveal Darth Vader is a 39-year-old man living in Tennessee, United States. Darthvader Williamson, that is.
Williamson, who is a surgical assistant, was named Darthvader by his die-hard Star Wars fan father, Williamson's mother Patricia Knowles told ABC News.
Ms Knowles explained that she compromised with Darthvader's dad, who wanted to use the full title Lord Darth Vader. She agreed to the shorter version because she "hadn't seen the movie" and "didn't know the character".
And we also learned serious Star Wars geeks could be behind the Twitter accounts of the Australian Senate and Australian House of Representatives.
"It's a shame there isn't a Galactic House of Representatives", tweeted the Senate, referring to (yes, we googled it) the belief that legislative decisions in the galaxy were made harmoniously in joint meetings of House and Senate, rather than in separate bi-cameral meetings as in common in Earth's democracies.
By the UGC and Social News team