Macron's win prompts congratulations and fear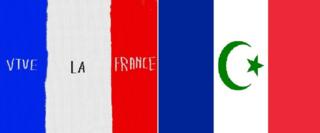 Emmanuel's Macron's French presidency win has been celebrated by many online, though some have said it will bring France's demise.
The centrist candidate decisively defeated far-right candidate Marine Le Pen on Sunday, becoming the country's youngest president.
Some tweeted the election result was a victory for "the free world" while others - primarily alt-right Twitter users in the US - claimed its winners were Islam and jihadists.
And pro-Brexit accounts joined in, including the official Leave.EU Facebook page which posted an image of the Eiffel Tower, captioned: "RIP France."
Five reasons why Macron won the French election
French president-elect to fight 'forces of division'
'Victory for the world'
"We're not so stupid in France, finally," was one reaction to the election result.
Another image shared showed a cartoon drawing of the Eiffel Tower, then Europe, and the world all breathing collective sighs of relief, while a self-proclaimed liberal democrat account tweeted an image of a box of macaroons, captioned: "We thought this was the best way to celebrate Macron's win. Congrats France! You've made the free world proud!"
Hillary Clinton's congratulations to France, the EU and the world, as well as Donald Trump's congratulations to Emmanuel Macron, were also widely liked and retweeted.
US actor Mark Hamill shared an image of the French flag, bearing the words: "Vive Le France."
However, some on Twitter said they were more pleased with Le Pen's defeat than Macron's victory.
'Sharia La France'
But far-right social media users, mainly in the US, came out in force against Macron.
Macron is a "useful infidel" and wants to "ensure that Islamic terrorism in Europe is distributed more equitably", a pro-Trump Twitter user said.
@V_of_Europe shared a photoshopped image of a bearded Macron holding a Koran with a backdrop of the Arc De Triomphe and militants from the so-called Islamic State group.
A video circulated on Twitter reportedly showing youths celebrating the win in Henin-Beaumont with one man holding up an Algerian flag.
One alt-right account illustrated an outline of the European continent as a Muslim man kneeling in prayer and asked the US president to "build up our military...in 25 years, out sons and daughters will have to go to Europe for our next foreign intervention".
Update 23 November 2017: This page has been amended to remove a tweet that, although innocuous, subsequently turned out to have been generated by a Russian "troll" account.
Also by the UGC and Social News team:
May the Fourth always be with Carrie Fisher
Stephen Colbert lambasted for 'homophobic' attack on Trump