Trump travel ban defence met with protest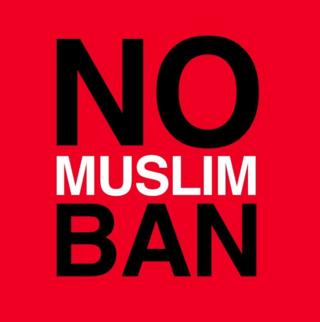 Protests have begun again on social media in opposition to US President Donald Trump's executive orders to bar nationals of several Muslim-majority nations from entering the United States.
Protestors have been using the hashtag #NoMuslimBanEver. Some on Twitter and Facebook changed their profile pictures to a red image which read "No Muslim Ban", although others, including Trump supporters, have tweeted the executive order only targeted nationals of "countries that don't adequately vet refugees".
On Monday, the government defended the contested ban in a Virginia federal appeals court. The Trump Muslim ban proposals were erased from President Trump's website on the same day, shortly after a reporter asked White House Press Secretary Sean Spicer why it was still there.
A rally took place on Monday outside the Virginia courthouse and several users shared images and videos from the scene, showing placards reading: "No ban, no wall, no raids."
One image shared was of a selfie taken by a local Richmond pastor with a rabbi and imam. The Virginia Interfaith Centre also posted images on Facebook, reading: "#LoveThyNeighbour (No Exceptions)."
"No hate. No fear. Immigrants, Muslims and refugees are welcome here," the Civil Rights coalition tweeted.
While Trump's ban was removed from the website, users on social media website Reddit pointed out a bug allowing people to create active web addresses with mischievous names, such as "https://www.donaldjtrump.com/about/the-biggest-mistake-america-ever-made" and "https://www.donaldjtrump.com/press-releases/cat_in_the_hat".
The American Civil Liberties Union (ACLU) also led an online campaign against the ban and criticised the passage of Senate Bill Four (SB4) in Texas, perceived as targeting undocumented immigrants.
The DC-based Asian Americans Advancing Justice also posted their support for the rally on Facebook, which came as "part of the #NoMuslimBanEver National Week of Resistance and #AAPIsResist Month of Action".
But others were critical of the campaign, saying the ban was merely "a travel restriction on a few high terror countries".
Several online debates referenced a discussion between former attorney general Sally Yates and Texas senator Ted Cruz during a hearing on Trump's alleged ties to Russia in which Yates refused to defend the travel ban.
One user tweeted: "Her cited statute doesn't supersede national security concerns, which is why ACLU didn't fair well today."
Another disagreed: "Ted Cruz smugly reads Sally Yates a statute to suggest that the travel ban was legal. Yates cites another saying you can't discriminate, bro."
Yates was fired in January after she questioned the legality of the immigration ban.
Also by the UGC and Social News team:
Jeff Sessions 'reminded' Hawaii is a state
Macron's win prompts congratulations and fear