Inside the Corbynista Facebook 'army'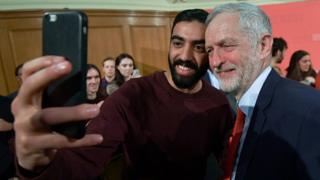 The polls and recent local election results may paint a different picture, but on Facebook, Jeremy Corbyn dwarfs his political rivals.
His official page has more than twice as many likes as Theresa May (860,000, compared with 360,000), and nearly 30 times as many as Liberal Democrat leader Tim Farron.
But the scale of Facebook operations mounted by pro-Corbyn supporters is what really stands out. They organise to hit out at the Conservatives and Tony Blair, game online opinion polls to bolster the apparent popularity of the Labour leader, and remain relentlessly positive about his chances on 8 June.
As part of our mission to examine the impact of social media, the BBC Trending team will be delving inside "Filter Bubble Britain", looking into groups from across the political spectrum over the coming weeks.
Much has been made of political news sites and blogs set up by the pro-Corbyn movement, but there's also an entire eco-system of Facebook groups run by individuals - so we are kicking off our series by looking at those.
Many political journalists are obsessed with Twitter, but in fact Facebook is the key organising platform for the group dubbed (often by their opponents) "Corbynistas" - those dedicated Labour campaigners led by the Momentum group. One of their key tools has been these groups, which share positive news stories about Corbyn and co-ordinate online campaigns.
---
Filter Bubble Britain: General Election coverage from BBC Trending
Over the course of the 2017 General Election campaign, BBC Trending will be delving inside "filter bubbles" - tight online communities created by algorithms and the way we all use social media.
If you'd like to help report on online communities, email the BBC Trending team to express interest. We have a number of tools which will allow us to examine your own "filter bubble" on social media - but there's no commitment, all information will be anonymised, and we'll keep all of your personal information private.
Read more: What pro-Tory Facebook really wants
---
They are sizeable communities - and there are many of them. One of the largest groups, "We support Jeremy Corbyn", has nearly 40,000 members, and several others boast more than 10,000. In total, there are hundreds of thousands of likes for these pages.
The "We support" group's stated purpose is "to share ideas and fight back against media lies" - and a feeling that the mainstream media is stacked against their leader is a common perception within these groups.
It is difficult to keep up with the sheer number of posts in the pro-Corbyn communities, as heavily-engaged members provide a minute-by-minute commentary on British politics.
Many of the posts attempt to channel members towards online polls and Facebook surveys. They encourage Corbynistas to vote en masse to inflate the perceived popularity of their leader.
This tactic even extends to relatively obscure corners of Facebook. For example, when the community page of New Newbury and Thatcham Berkshire asked who locals would like as prime minister, "We support Jeremy Corbyn" mobilised behind the Labour leader. Less than three hours after the poll had been launched, Corbyn had received 13,000 votes, compared with 4,000 for May and 109 for Farron. The New Newbury and Thatcham Facebook page has only about 5,000 members.
In these cliques, the Conservative Party is the primary enemy. One of the most popular recent posts in "We support Jeremy Corbyn" highlighted a joke by Andy Hamilton, who implied that Theresa May suffers from dementia on an episode of Have I Got News For You. One of the most liked comments on the post said the prime minister "should stop acting weird".
BBC Trending spoke to Caroline Tipler, who founded the group "Jeremy Corbyn leads us to 2017 victory", which has more than 11,000 members (and in the wake of the snap election surprise announcement was swiftly renamed from "Jeremy Corbyn leads us to 2020 victory").
Tipler said she established the group to allow Corbyn supporters to connect with each other, to provide information on Corbyn's policies and to counter what she calls the "appalling, destructive" actions of "plotters" who want to remove Corbyn as Labour leader.
Tipler feels that Corbyn has reinvigorated politics, and denies the main criticism of these groups - that they have turned into self-perpetuating echo chambers.
"Members seek to share values and to have their values of honesty and decency reinforced and placed into political life," she says. "Debate and a broad church approach is encouraged. No one is 'right' or 'more right', we are all learning."
Another main theme of the groups is that Corbyn's political allies must be defended against attacks. Following interviews from Diane Abbott, during which she made some widely covered mathematical slip-ups, one Jeremy Corbyn fan defended the shadow Home Secretary with heavy sarcasm: "Shock, horror! Diane Abbott doesn't have a chip in her brain relaying the live election results, which are actually coming in WHILST she's being interviewed!"
In these groups, many of the articles posted originate from a crop of pro-Corbyn political bloggers and writers, perhaps the biggest of which is a popular political blog called The Canary.
These blogs are media success stories in their own right. They often publish pieces that spread more widely than mainstream media reports and, in the case of The Canary, pay writers in part based on their click numbers. Kerry-Anne Mendoza, editor of The Canary, is unsurprisingly a big supporter of the active pro-Corbyn Facebook wave.
"I love that the pro-Corbyn groups are out there," she told BBC Trending. "They will be able to amplify Corbyn's messages all the way up to the election."
In the early weeks of the election campaign, The Canary has been one of the most popular news sources on Facebook, at times drawing in numbers comparable to the BBC and national newspapers to some of its stories.
But are the people in these groups confident that their man can win the general election? Most are, but some still question why the Labour Party is not performing better, and put the blame on party rebels:
Others reserve criticism for Tony Blair, who is frequently accused on these groups of being a Conservative sympathiser.
There's also a mischievous approach to news circulating in some of these groups. Here's an example: in the wake of the local council elections on 6 May, several links were posted to an Independent article from the 2016 local elections. The headline was: "Not that you'd know it, but the Tories lost far more seats in the election than Labour". The article was 100% correct - but it referred to an election a year ago.
However, on many of the posts there was no acknowledgement of those inconvenient facts. That said, it was illustrated with a picture of the former Conservative leader David Cameron, which may have been a giveaway to those who looked carefully:
Labour's losses in the most recent local elections - 382 seats and the control of seven councils - has not quelled the expectations of many Corbynistas:
Blog by Sam Bright
You can follow BBC Trending on Twitter @BBCtrending, and find us on Facebook. All our stories are at bbc.com/trending.