Arabs call for Pizza Hut boycott after prisoner ad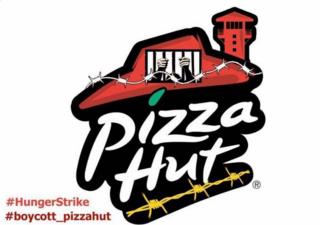 With some claiming echoes of a second Watergate unfolding in the United States, on the other side of the world there is talk of "Pizza Hut-gate".
Arabs on social are calling for a boycott of the popular pizza chain and franchise after one of its Israel branches posted a Facebook advert said to "mock" Palestinian hunger strikers.
Pizza Hut has apologised for the now deleted post, saying it was "completely inappropriate and does not reflect the values of our brand" and added that "the relationship with the agency that posted it was terminated".
Israeli prison authorities had earlier released an video of Marwan Barghouti - who is leading a mass hunger strike in Israeli prisons - allegedly secretly eating cookies. Mr Barghouti's wife has said the prison service footage was "fake".
But Pizza Hut used a screen grab of the video with a Photoshopped pizza box in the cell. The post in Hebrew read: "Barghouti, if you are going to break your strike, isn't pizza the better choice?"
Hundreds of Palestinian prisoners have been refusing food since 17 April to protest against Israeli jail conditions, relying on an intake of saltwater. Last week, social media users started an online "Salt Water Challenge" to draw attention to the strike.
In the latest protest some said Pizza Hut was "making fun" of Palestinian prisoners, with several using English and Arabic hashtags to call for a boycott of the franchise.
"It's a Palestinian cause but it concerns every Arab and Muslim. Pizza Hut has branches in several Arab countries," one Gaza-based user tweeted. Another addressed Pizza Hut directly saying: "Thought it's a 'smart' advertisement [and] would be a hit? Well, yes it is! BDS says HI!"
The BDS - or Boycott, Divestment and Sanctions - is a self-described human rights organisations which supports a boycott of Israel as a form of pressure. Support for the campaign has grown on UK university campuses and has been criticised by some Jewish students.
A BDS Twitter account restyled Pizza Hut's old logo to show a prisoner held behind barbed wire and prison bars, while another showed a pizza boycott sign.
While Pizza Hut was quick to distance itself from the ad, some said they "loved the advert" and that it was a "great move".
In late April members of an Israeli right-wing movement staged a barbecue outside a military prison in the West Bank where prisoners were on hunger strike.
Palestinian ambassador to the UN Riyad Mansour has said that more than 6,500 Palestinians are imprisoned or arbitrarily detained by Israel.
By the UGC and Social News team; Additional reporting by BBC Monitoring in Cairo