James Comey's successor: Putin in Groucho glasses?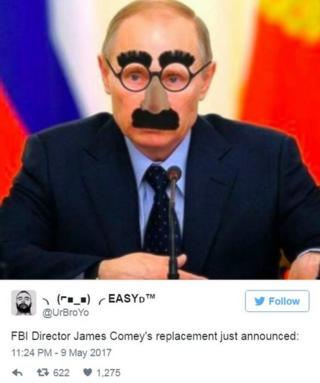 Social media is recommending a wide range of replacements to fill the now vacant position of FBI chief.
On Tuesday, US President Donald Trump fired FBI director James Comey, with the administration claiming it was over his handling of the inquiry into Hillary Clinton's emails.
Russian President Vladimir Putin wearing a Groucho Marx glasses disguise was a popular suggestion as candidate for the job. Mock Putin and KGB Twitter accounts also joked they would take over the FBI and added that Comey's removal "is another great step forward to complete and total domination".
Some suggested the president's daughter and son-in law Ivanka and Jared Kushner for the post, while @JillBidenVeep put forward radio host and TV personality Ryan Seacrest.
The Daily Show with Trevor Noah tweeted the firing as part of a special TV business series dubbed "The Celebrity Appresident", with both Comey and Flynn "eliminated".
In February, then US National Security Adviser Michael Flynn resigned over allegations he discussed US sanctions with Russia prior to Mr Trump taking office.
A Michael Flynn in disguise, Homer Simpson and the Grand Inquisitor from the animated TV series Star Wars Rebels, also made the social media FBI chief candidate list.
And despite the enticing suggestion of the world's favourite donut lover taking the role, some suggested the "qualified and available" Sally Yates.
Yates was fired by Trump in January from the post of US attorney general after she questioned the legality of the immigration ban.
An Australian Twitter user said: "It's OK I'm sure #Comey's replacement will be properly vetted and not hired in a hurry and definitely not an agent of a foreign government."
Comey, whose sacking comes three-and-a-half years into his 10-year term, had been leading an investigation into ties between Russia and the Trump campaign.
Supporters of former secretary of state Clinton also claim that Comey's handling of the email probe was responsible for her election defeat.
---
Also by the UGC and Social News team:
Arabs call for Pizza Hut boycott after prisoner ad
Stephen Colbert lambasted for 'homophobic' attack on Trump