Protest message projected on Trump hotel in Washington DC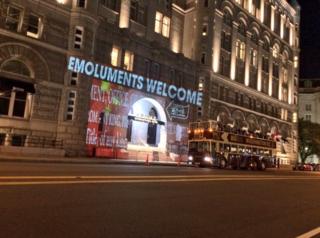 A Trump International Hotel in the US capital has been used as a drawing board for anti-Trump political messages.
The messages, projected by Washington DC based artist Robin Bell (@bellvisuals) read: "Emoluments Welcome", "Pay Trump Bribes Here" as well as the Constitution's emoluments clause.
The display comes at a time when the Trump administration is involved in a furore around the President's sharing of classifed information to Russian officials.
While the projections were met with praise by some, supporters of the president maintain there is no proof or evidence of collusion between Trump and Russia. National Security Adviser HR McMaster has also dismissed the reporting as "false".
Mr Trump has defended his "absolute right" to share "facts" with Russia.
The hotel is located across the street from the Environmental Protection Agency (EPA) and is a few blocks away from the White House.
Mr Bell projected another anti-Trump message on the hotel in November 2016 to protest the appointment of Myron Ebell - known for his opposition to the scientific consensus on climate change - to lead the transition at the EPA.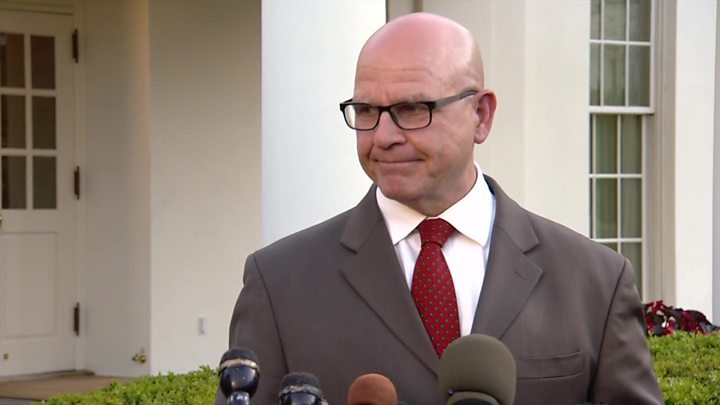 Several people who commented on the images on Twitter said they were "beautiful". One suggested starting a fundraising campaign to do this in Trump establishments elsewhere.
You might also like:
Critics of the president also joked over reports in US media on the said Trump-Russia collusion.
A Washington Post reporter told the BBC: "The nature of the information provided [by Trump] would have allowed the Russians to 'reverse engineer' to discover the sources and methods. He said so much that they could figure it out."
One meme depicted a conversation between Kevin McCallister and Mr Trump (playing himself) in the film Home Alone 2: "Excuse me, where's the lobby?", "I don't know but here is some classified information on ISIS."
Another humorous take said Mr Trump inadvertently gave the Russian foreign minister and the ambassador the nuclear launch code.
But a pro-Trump Twitter account said the US newspaper was "fake news", and was simply offering its "daily negative spin on all things Trump".
By the UGC and Social News team