Historians suggest "more unfairly" treated politicians than Trump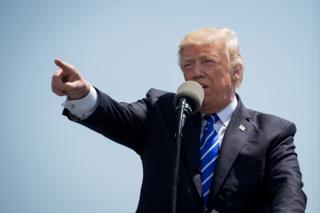 US President Donald Trump is being told off by historians on Twitter after stating that his treatment by critics was worse than anything any other politician has faced.
In an address to a US Coast Guard graduating class in Connecticut on Wednesday, Mr Trump said: "No politician in history, and I say this with great surety, has been treated worse or more unfairly."
The comments follow accusations Mr Trump asked former FBI director James Comey to drop an inquiry into links between ex-national security adviser Michael Flynn and Russia.
The president's supporters maintain there is no proof or evidence of collusion between Trump and Russia and the media has been biased against him.
Trump supporters: 'People are sick and tired of media'
Some historians were quick to qualify the president's remark, providing case studies of leaders who they say had it worse.
BBC history presenter Dan Snow posted a thread of tweets shared thousands of times in which he outlined the gruesome demise of several figures, including Emperor Valerian, Oliver Cromwell, Patrice Lumumba, and Edward II.
Users who commented on the thread also shared images of other influential personalities they believe had suffered more, including Nelson Mandela, Mahatma Gandhi and Malcolm X among others.
Tweeting Mr Trump's quote, historian Tom Holland added: "Take that, Cleopatra!"
You may also like:
Trump supporters defensive amid Comey claims
Protest message projected on Trump hotel in Washington DC
The Avril Lavigne conspiracy theory returns
Greg Jenner, best known for his BBC series Horrible Histories, also tweeted: "Sir Arthur Aston had his brains beaten out of his skull with his own wooden leg."
Writer Jelani Cobb, formerly an associate professor of history, highlighted Nicolae Ceaușescu - a Romanian politician who was executed alongside his wife in 1989. Commenting on Mr Trump's address, Cobb continued: "Imagining this as a theatre act with a foldaway cross he mounts and uses as a podium and ketchup stigmata."
And a professor of history and African American Studies at Princeton University altered the president's line to read: "No politician in history is worse than me."
Meanwhile, others drew attention to previous US leaders who had either been shot or assassinated, as well as previous president Barack Obama who was subject to the "birther" conspiracy of which Trump was a proponent.
In July 2016, a non-partisan petition labelled Historians Against Trump with nearly 1,000 signatories said: "The lessons of history compel us to speak out against Trump."
But some came to the president's defence and agree that he "has been treated unfairly" by the mainstream media which have not reported "his accomplishments".
"Trump is right as far as I know," another added.
"I [have] never seen such hatred against a president. They are not capable of reporting facts. Just propaganda for the Democrats," one user elaborated.
By the UGC and Social News team