Tory manifesto: Mocked by some praised by others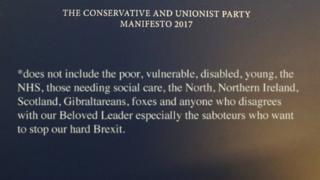 Some online users are levelling criticism at the Tory manifesto and are offering their alternative front page - one they say better fits the bill.
Prime Minister Theresa May launched the Conservative manifesto on Thursday, promising to deliver Brexit and a strong economy.
Following the announcement, actor and comedian David Schneider shared an image of a mock Tory manifesto that claimed to exclude a wide range of society from its plan for a stronger Britain.
While some supported that alternative vision other defended what they saw as a "wonderful, common sense manifesto".
Conservative manifesto: Three things you need to know
Others followed suit with one headlining the Tory manifesto as "Breaking the UK in front of your eyes" and a political satirist likened it to the Necronomicon Ex-Mortis, an antagonistic textbook from the Evil Dead series.
You may also like:
Historians suggest "more unfairly" treated politicians than Trump
Trump supporters defensive amid Comey claims
Labour leak reaction: Mock Tory manifestos and magic money trees
Several highlighted the Tory pledge to stop free lunches offered to all infant pupils - according to the manifesto the funds from this will go to tackle school funding shortages in England.
Elsewhere the Labour candidate for Tottenham David Lammy labelled the party as the "lunch snatchers" alluding to a slogan used to describe former Prime Minister Margaret Thatcher.
The NHS also featured in the discussion: "I must have missed the bit where Theresa committed to £350 million a week for the #NHS during the #torymanifesto."
An unofficial NHS Twitter account echoed that sentiment: "The Tory Party missed so many of the health pledges they made last time."
"I'm looking after my 89 year old dad and today I want to weep. This government just puts more and more stress on ill and carers and NHS," a children's author said.
While several said they were upset that the manifesto did not mention support for the LGBT community others defended the document by saying it was "common sense".
A Conservative candidate for South West Devon said: "Wonderful speech. Powerful manifesto. Something positive to sell on the doorsteps."
Another said it looked "very positive", with one expressing "delight" at seeing support for veterans included.
By the UGC and Social News team