ITV Leaders' debate: Paul, Leanne and... Natalie?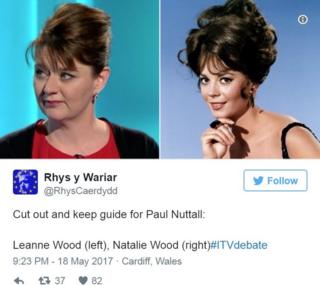 It's one thing for someone to mispronounce your name, but calling you by an entirely different one is something else altogether.
Leaders of five political parties - the Liberal Democrats, Green Party, Plaid Cymru, SNP and UKIP - took part in a live election debate on ITV on Thursday.
During the debate, UKIP leader Paul Nuttall twice called Plaid Cymru's Leanne Wood "Natalie", twice, despite there being no Natalie on the panel.
Some online users were quick to poke fun over the mistake, saying Mr Nuttall had confused Ms Wood for the late American actress Natalie Wood. Others, such as former Labour spin doctor Alistair Campbell, tweeted the hashtag #IAgreeWithNatalie.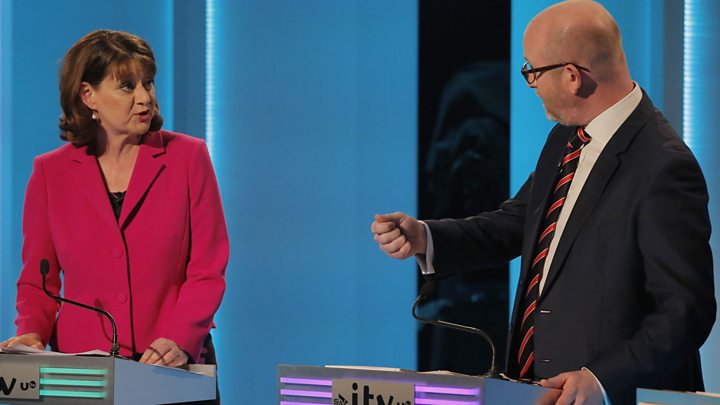 Since the mishap, Ms Wood herself has posted the word Natalie on her Facebook page. One user went on to add that she should have called Mr Nuttall "Theresa" in response, Ms Wood replied: "I missed a trick there."
Trigger and Rodney from the British TV sitcom Only Fools and Horses also featured among the online jokes. In the series, Trigger continually refers to Rodney as "Dave", fully convinced it's Rodney's real name.
A Welsh Twitter user shared a screen grab of the pair, with Trigger referring to Rodney as Natalie.
You may also like:
A pro-Brexit Twitter account photoshopped the podiums so the three women present at the debate were all called Natalie.
But Telegraph contributor Tim Stanley identified them all as Natalies.
"I think the second one from the right is Nuttallie," The Times' Daniel Finkelstein suggested.
"Right, I've heard what they've all had to say on the #ITVDebate and I'm voting for Natalie," talkRadio host Julia Hartley-Brewer continued on Facebook.
By the UGC and Social News team