'Stay strong our kid': Manchester reacts to attack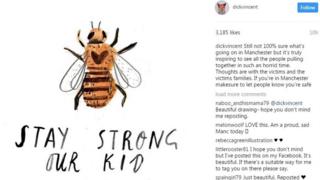 In response to the suicide bombing at Manchester Arena, Mancunians and people around the world joined in an online show of unity.
Hashtags including "Pray for Manchester", "Stand Together" and "We Stand Together" were used millions of times and climbed up Twitter's list of top UK trends. "Pray for Manchester" alone was tweeted more than 1.8 million times by Tuesday afternoon.
Many of the messages included pictures of the scene of the attack and pleas from people looking for loved ones, but there were also messages of solidarity and defiance:
Manchester Police: This was a terrorist attack
Manchester attack: Fake 'missing' images
#RoomForManchester: People offer shelter to those affected by Manchester Arena blast
Manchester, which is the UK's third most popular city for tourism, after London and Edinburgh, has been influential in popular culture due to its vibrant music scene and globally famous football clubs. These were close to people's minds as they shared images of the city.
Both Manchester United and their Premier League neighbours Manchester City expressed solidarity with those who had been affected by the attack.
Among the most viral images were local symbols and artwork - for example, the worker bee that symbolises Manchester's vital role in the industrial revolution.
Subdued but strong: Manchester the morning after
All the latest developments can be found on the BBC's live page.
You can follow BBC Trending on Twitter @BBCtrending, and find us on Facebook. All our stories are at bbc.com/trending.