Runners call for a 'sea of yellow' in Manchester tribute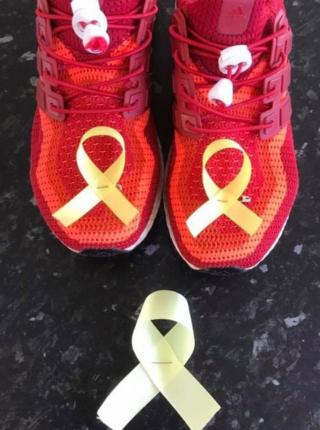 Runners and their supporters around the UK plan to create a "sea of yellow" at marathons and other running events this weekend in tribute to the victims of the Manchester Arena attack.
Yellow ribbons are considered to be a symbol of hope and solidarity and people are being asked to show their support by wearing one.
Posters on Facebook and Twitter pages for several parkrun groups around the country said they also wanted to "show that we are all part of the same community and we will all come together in solidarity, defiance and love".
A Facebook user who put his "arts and crafts talents to good use" pinned yellow ribbons to his trainers. Another woman customised her yellow ribbons with worker bees.
Many of the messages of solidarity shared online following the attack on Monday included images of the worker bee - a symbol of Manchester, highlighting the city's vital role in the industrial revolution.
One Facebook user said she planned to wear bee earrings for the Great Manchester Run on Sunday, while another hoping to attend the Liverpool Rock 'n' Roll Marathon series on Sunday added that she would don a "big yellow flower" in her hair in addition to a yellow vest.
You might also like:
The organisers of the Liverpool marathon posted on Facebook: "In a show of solidarity, runners and supporters are also encouraged to wear a yellow ribbon - it's a small gesture with a massive message that we are united."
Runners in London, Edinburgh, Blackpool, Brighton, Nottingham and Dorchester also expressed their intent to wear the colour this weekend.
A parkrun event in Birmingham encouraged both runners and supporters to wear yellow - be it hat, socks, shoes or shorts.
By the UGC and Social News team