Flying without a man: The mysterious case of Dina Ali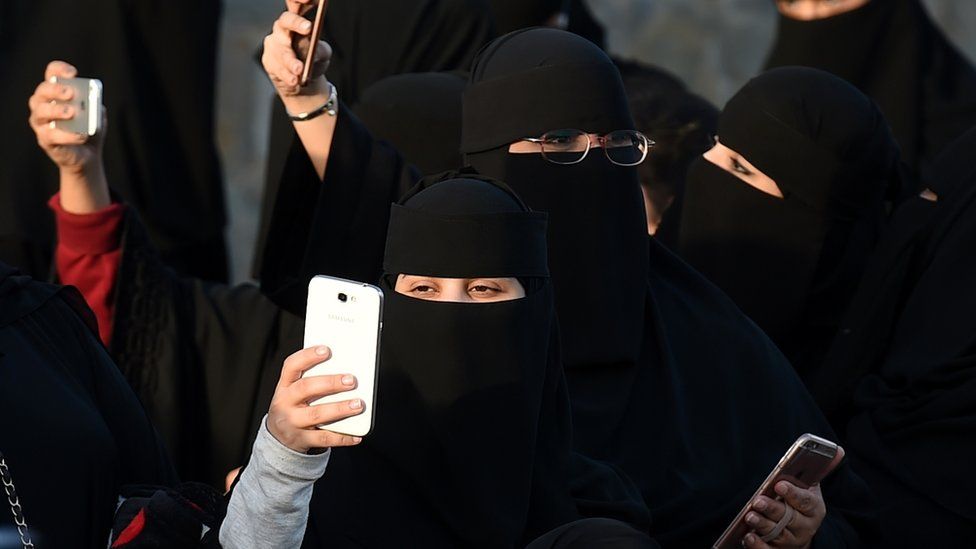 A trip taken by a young Saudi woman - and her unwilling journey back to her home country - opened up a debate about Saudi laws which require females to get permission from male relatives before they travel or undertake a host of everyday tasks.
Frightened and in an unfamiliar country, Dina Ali Lasloom approached a stranger in Manila airport.
Lasloom, a 24-year-old Saudi woman, was attempting to leave her family in Kuwait and intended to seek asylum in Australia. But after being stopped in transit in the Philippines, she faced being sent back to Saudi Arabia.
The stranger she approached in the airport was Meagan Khan, a Canadian woman. In just a few hours, the two formed a close bond.
Khan says that Lasloom told her that she learned that her uncles were on their way to find her in Manila. Lasloom recorded a plea for help on Khan's phone.
"Dina was sitting across from me eating a sandwich and I was looking at her and I saw a change in her face.
"She just completely lost every single emotion and a completely terrified look appeared in her face. She said 'Meagan they're here.'
"She said 'Meagan! Meagan, send the video, they're here.' And I turned and saw two men and a woman walking towards us and I said to her 'Are those your uncles?'
She was put on a flight to Riyadh, but not before her video appeal went viral on Twitter. The hashtag "Save Dina Ali" began trending on 11 April, before she had even arrived back in Saudi Arabia.
That was the last that Khan and women's rights activists heard from her. BBC Trending has now pieced together the timeline behind the mysterious story of Dina Ali Lasloom, the debate about Saudi Arabia's guardianship law and what has happened to her after she was made to return.
According to a number of people who have spoken to Trending, Lasloom was attempting to escape an arranged marriage. In the video, she claimed the authorities in Manila prevented her from boarding a connecting flight, and took her passport.
On Twitter activists, who saw Lasloom's video were trying their best to draw attention to her predicament.
One was the prominent Saudi feminist Moudi Aljohani, who fled her home country eight months ago, and is now seeking asylum in the US.
Guardianship derives from a particular interpretation of Islamic law - and in Saudi Arabia, women are required to get the permission of a male relative if they want to do a number of things, including get a passport, travel abroad or marry.
"I was very stressed, I was trying my best to use Twitter to seek help for Dina," Aljohani says. "I was trying my best to contact the NGOs and the media, which unfortunately didn't cover the story until it was too late."
On 12 April, the Saudi embassy in the Philippines released a statement saying that Lasloom's return was a "family matter." Trending tried to contact Lasloom's uncles, but got no response.
Activists say that upon arriving in Saudi Arabia, Lasloom was first taken to a women's detention centre in Riyadh.
According to Washington-based Saudi women's rights scholar Hala Aldosari, the detention centres are similar to prisons.
"Women don't go out but they do have access to education. And we know of women who have committed suicide in those confined imprisonments," Aldosari says.
Due to the secrecy surrounding these detention centres, BBC Trending was unable to independently verify Aldosari's statements.
What we do know, according to both Human Rights Watch and Amnesty International, is that at present Lasloom is believed to have been moved from a detention centre to a shelter - a place, according to activists, with better conditions where women are moved to if they can prove that they are in danger at home.
The online campaign to save Lasloom died down shortly after her case hit the headlines, yet it didn't close down completely, and the issue is a perennial one in Saudi society. Weeks after her ordeal went viral, a pair of sisters attempted to flee Saudi Arabia via Turkey, claiming that they were abused by their family. Their case prompted some people online to draw parallels with Lasloom and, once again, question Saudi's guardianship law.
Human Rights Watch (HRW) encouraged people to tweet the "Save Dina Ali" hashtag to Saudi's King Salman. The group continues to campaign for the end of guardianship.
"Dina Ali is by no means the only Saudi woman who found herself in this tragic situation," says HRW's Ahmed Benchemsi. "In early April of this year Maryam Al Otaibi, another Saudi woman... fled abusive family members
"In Saudi Arabia women like Dina Ali and Maryam Al Otaibi who flee their family can also face so-called honour violence or serious harm if they return against their will."
And the chatter around Saudi's guardianship rules seems to be prompting some changes in the country.
According to a statement published on the Saudi Human Rights Commission earlier this month, the king issued a directive loosening guardianship rules. The measures would allow women greater access to education and medicine without the approval of a male relative. Women would still need permission, however, to travel and get married.
Some believe that the guardianship system should not be abolished completely.
"The guardianship law comes from the bond of two parties (i.e. father and daughter)," says Saudi journalist Bander Otayf. "The guardianship law was not legislated to oppress women, but to protect them, and the few cases where guardians abuse women don't represent the system."
Yet for activists like Moudi Aljohani, the changes are nowhere near enough, and the Dina Ali case highlights the ongoing restrictions faced by women in the kingdom.
"Dina Ali wasn't allowed to feel what I felt when I set a foot at JFK airport (in New York)," she says. "I was in shock that I finally had my freedom. Dina will never know what I felt after I made it."
Since she was taken to Riyadh, none of the activists BBC Trending spoke to have heard from Dina Ali Lasloom. But most agree that her case is unlikely to be the last to trigger a debate about guardianship.
Reporting by Fahima Abdulrahman