Paris climate deal: Jokes, sunken cities and scuba golf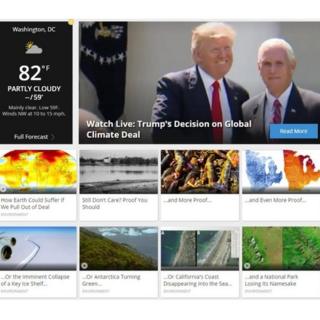 US President Donald Trump's decision to withdraw his country from the 2015 Paris climate agreement has irked world leaders, businesses and scientists alike.
It has also prompted many to anticipate the world's "impending doom" with some Twitter users forecasting global disruption and proposing possible solutions and lifestyle changes.
The Weather Channel's homepage on 1 June offered a range of "proof" of how the world could "suffer". A screen grab of the page was widely shared online, with at least 100,000 interactions and was also archived.
Meanwhile, one Democrat commentator on Twitter predicted plans for a Trump library and museum underwater in New York.
Trump climate deal pullout: The global reaction
Five effects of US pullout from Paris climate deal
Others speculated Mr Trump's Florida estate and golf resort Mar-a-Lago would be fully submerged under water, with one picturing their "future grandson playing golf at Mar-a-Lago," complete with a diving suit, flippers, mask and oxygen tank.
Late last month, a sinkhole opened outside the president's resort.
To prepare for this new reality, political commentator Ana Navarro tweeted an image of her snorkelling gear.
You might also like:
US comedian Andy Borowitz said on Facebook: "The only way to solve this climate change issue is with a live TV debate between Trump and a ravenous polar bear."
The Daily Telegraph's news cartoonist, Matt, caricatured two polar bears surrounded by water who responded to the decision by saying: "Oh, Covfefe!"
Satirical character Mrs Betty Bowers - played by Canadian comedian Deven Green - tweeted a photo of a life-size Noah's Ark: "Where climate change is 'unproven' to people, 100 per cent sure a guy called Noah fit all the world's animals on his boat."
And forecasting a "bloody end", several Twitter users recreated Kathy Griffin's fake decapitated-Trump stunt but instead showing Mr Trump holding up a mock blood-stained world.
Another digitally-altered image showed the military band playing in the White House Rose Garden just before Trump's announcement, only this time half-submerged in water.
However, some images of sunken cities came from supporters of the president who tweeted Mr Trump's decision would melt "all the snowflakes and globalists".
Another user continued by saying "spontaneous floods" would not be caused by climate change, but rather by "liberal tears".
By the UGC and Social News team