The Chinese outrage at Trump's climate decision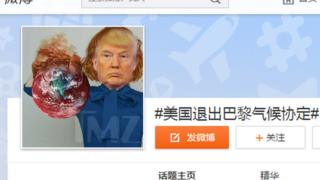 The US withdrawal from the Paris climate agreement is a huge talking point around the world, and it's particularly dominating Chinese social media.
Millions of social media users are reading about the decision to exit the international agreement, and discussing the impact on China.
On microblog site Sina Weibo, one of the most popular hashtags has been "US withdraws from Paris climate agreement".
One of the most viral images is one that first appeared on the gossip site TMZ. It's a meme based on a controversial comic's photo shoot where she was shown holding a fake severed head meant to look like President Trump.
In the version circulating on Weibo, however, it's Trump holding the head - which has been altered to resemble a bleeding globe.
The striking image has contributed to more than two million users reading posts about the US withdrawing from the agreement, and has prompted widespread online discussion.
'Short-sighted' and 'selfish'
Many Chinese have some regard for Trump as a pragmatist and a businessman. But many are also passionate about environmental issues as a result of the country's rapid industrialisation and chronic air pollution, and hint that Trump's U-turn will set the tide of Chinese public opinion against him.
Thousands reacted angrily to a post by official broadcaster CCTV which stated that "this is Trump's second major exit after withdrawing from the Trans-Pacific Partnership (TPP) trade agreement" back in January.
Visit the Trending Facebook page
User "atspetro" said Trump had become "like a clown… with no credibility."
Another user, "Maizhen Keji", calls Trump "short-sighted" and "selfish" and says that public opinion towards his withdrawal from the agreement can be summed up with a Chinese proverb: "shuineng zaizhou": "not only can water float a boat, it can also sink it."
In other words, people (the water) can raise a politician (the boat) to power, but they can also destroy a leader's reputation.
'Good news for China'
Many online are also saying that they feel it is now time for China to take the lead on tackling climate change.
User "kisschick" says: "Trump's ignorant and reckless decision to exist the Paris Climate agreement will give greater powers to our country over the next decade." Another said that Trump giving up the Paris agreement meant that he would "lose a wide range of opportunities, as well as diplomatic influence, t China."
And "Dija Shuaige Pifa" added that the US's exit from the agreement "is really good news for China, as the world will get to see the goodwill of China," pointing out that the country is the world's leading investor in renewable energy.
Blog by Kerry Allen, BBC Monitoring
You can follow BBC Trending on Twitter @BBCtrending, and find us on Facebook. All our stories are at bbc.com/trending.