Pro-Brexit Facebook groups: Conservative converts?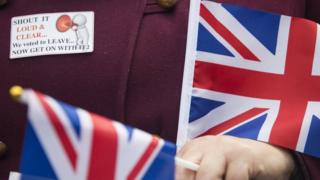 Brexit has featured heavily throughout the Conservative campaign, but how are staunch online Brexiteers feeling about the general election?
To answer this question, BBC Trending delved inside some of the most popular pro-Brexit Facebook groups and found that their members have a new idol: the Conservative Party - which many see as the only effective vehicle to bring about the kind of Brexit they want.
Meanwhile, there's bitter hostility towards Remainers, who they think are obstructing the referendum result. And, perhaps surprisingly, enthusiastic support for UKIP in this segment of voters seems to be ebbing away.
As part of our effort to track the role of social media in the election, BBC Trending has been investigating the views of "filter bubbles" - tight-knit online communities that share common political beliefs.
We gained access to some of the most prominent pro-Brexit Facebook groups, including "Brexit HQ" (13,000 members), "Britons against the EU" (12,000 members), "Brexit needs to happen ASAP" (6,000 members) and a range of similar groups.
The pro-Brexit bubble is sizeable, though it is markedly smaller than the pro-Remain and pro-Jeremy Corbyn bubbles - yet that shouldn't be taken as a measure of the popularity of or enthusiasm for those political viewpoints. It could well be, for instance, that the relative youth of Remain and Corbyn supporters means those groups are more active on social media.
More from BBC Trending: How can you burst your filter bubble?
Inside the pro-Brexit groups, members avidly discuss British identity and are scathing about those who want Britain to remain in the EU. They are heavily in favour of the Conservative Party in the upcoming general election, and they distrust Labour leader Jeremy Corbyn.
Patriotism is the subject of extensive discussion in these pro-Brexit groups, and the British flag is flown in many posts. Many members call for the return of a more traditional form of national identity, which they believe has been corrupted by the EU:
Similarly, the Brexiteers of Facebook are ruthless towards Remainers - particularly those who say that Britain will suffer outside the EU.
Yet, whereas UKIP might have been the natural home of these Brexit voters prior to the referendum, many are now cheerleading for the Conservatives.
On 31 May, the founder of "Brexit HQ" created a general election poll in the group. More than 500 people responded - with 85% saying they would vote for the Conservatives and 13% saying they would vote for UKIP. Three people said they would be voting Liberal Democrat, and only one person backed Labour.
---
Filter Bubble Britain: General Election coverage from BBC Trending
Online Remainers: Can't agree who to vote for
The secret yearnings of pro-Tory Facebook groups
Inside the Corbynista Facebook 'army'
---
Indeed, despite saying that the issue of Brexit is now "settled" following the EU referendum, Jeremy Corbyn is widely distrusted by Facebook Brexiteers. One member of "Britons against the EU" commented: "FAKE Corbyn supports a FAKE BREXIT."
But Brexit isn't the only issue on which Corbyn is criticised. His economic policies are also in the firing line, with images such as this widely used:
However, despite their condemnation of the Labour leader, group members aren't entirely convinced that Theresa May will steer the Tories to victory. In fact, following a recent slump in the opinion polls, a handful have come up with their own, original, explanations. One member of "Britons against the EU" wildly speculated that the Conservatives were deliberately throwing away the election, "possibly under the orders of higher authorities… their bosses in the EU."
Other group members have a different message though - calling on fellow Brexiteers to have faith that the referendum result will be honoured:
Blog by Sam Bright
---
Also from Trending: Are you being targeted by political ads?
BBC Newsnight and BBC Trending and BBC local radio are working together to shed light on the role of social media advertising in the UK general election.
If you spot an advert or post in your social media feed which looks political then please send us a screengrab or a link to the content.
Please also tell us your age, gender, location, job and political affiliation (if you are happy to tell us). And please let us know if you are happy to be contacted by a BBC reporter.
Email: electionmessages@bbc.co.uk
Tweet: @bbcnewsnight or @bbctrending
SMS or WhatsApp: +44 7380 405603
All our stories are at bbc.com/trending.