Campaigns target voters with precision in final days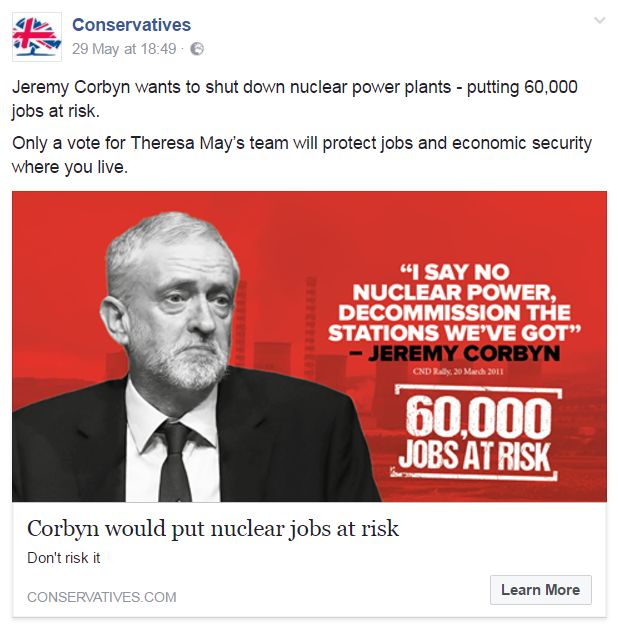 As the race for Number 10 heats up, political parties are targeting key voters with increasing precision on Facebook.
It's no secret that political parties are using Facebook's tools to target people according to their age, location and political affiliation. But as the campaign reaches its conclusion, microtargeted advertising appears to have been ramped up to a degree previously unseen in this general election.
Facebook adverts were collected by Who Targets Me, which has crowdsourced material from more 10,000 users, and analysed by the Bureau of Investigative Journalism. The Bureau looked at 7,900 instances when ads from the three major political parties and their leaders appeared in the Facebook feeds of the sample group, and found that all three parties are posting "dark ads" - material which doesn't appear on official party pages.
It appears the parties are now aggressively targeting key seats with these adverts, with precise localised messages ahead of election day. BBC Trending's own crowdsourcing effort, in conjunction with Newsnight and local radio, backs up these findings.
Conservatives: Don't trust Labour on local issues
Many of the adverts delivered by the Conservative Party are highly targeted - mentioning the name of the local Labour candidate. These adverts also commonly cite Jeremy Corbyn, according to the Bureau - suggesting the Tories believe they can help their chances by focusing on Corbyn's leadership and tying local candidates to the Labour leader.
In the key Conservative target of Ealing Central, a 65 year-old man saw this advert, tying together Corbyn and the local Labour candidate:
The same ad was tweaked for another key seat, Westminster North. The text read: "Jeremy Corbyn and Karen Buck will hit more than 80% of family homes in Westminster North with their punishing inheritance tax hike."
Elsewhere, Conservative Party ads have targeted constituencies with messages based on important local issues. An advert about nuclear industry jobs has been spotted in three constituencies with significant nuclear industries. In Derby North, a 26 year-old man was shown an ad saying "Corbyn would put nuclear jobs at risk". The issue of nuclear and Trident has been a campaign issue in Derby, where Rolls-Royce, who make nuclear reactors, is situated.
More on political advertising from BBC Trending
The same ad was seen in City of Chester constituency, where Urenco Limited, a uranium specialist, employs hundreds of workers.
Conservative Party ads, tailored with specific constituency details, have been found posted from the party's main Facebook page, but some are only being seen in key marginal constituencies. It's unclear how the money spent on the ads will be counted under election spending rules.
The ads are controversial because under law, local and national party spending must be separately reported, and both types are subject to strict limits. Candidates for any party can only spend a set amount, typically roughly £15,000, on their local campaign. The exact sum is calculated on a per capita basis.
The microtargeted ads are in contrast to ads that have been running on YouTube and other social and gaming platforms. BBC Trending and Newsnight have found that the parties - particularly the Conservatives - are engaging in more general and less targeted campaigns elsewhere online.
Liberal Democrats: Vote tactically
The Conservatives are not the only ones escalating their highly specific campaigning on Facebook, according to the Bureau of Investigative Journalism's findings. Liberal Democrat adverts have been seen in many key target seats, encouraging Labour supporters to vote tactically:
These ads were spotted across 23 constituencies, including Kingston and Surbiton, and Twickenham - seats held by the Conservatives where the Liberal Democrats came a close second in 2015. They were also spotted in Sheffield Central and Sheffield Hallam, where former party leader Nick Clegg is standing.
Labour: Don't risk your pension
The Labour Party has also been stepping up its efforts on social media, particularly targeting older women over the issue of pensions reform. One ad says: "2.6 million women have been hit by Tory unfair pension changes. A vote for Labour is a vote for a fair deal for pensioners."
These ads have been seen only by women aged between 42 and 70 years old in the Who Targets Me sample group, suggesting the posts are being targeted at a very specific demographic. Another similar ad was targeted at a 64-year-old woman in the Ealing North constituency:
BBC Newsnight and BBC Trending and BBC local radio are working together to shed light on the role of social media advertising in the UK general election.
If you spot an advert or post in your social media feed which looks political then please send us a screengrab or a link to the content.
Please also tell us your age, gender, location, job and political affiliation (if you are happy to tell us). And please let us know if you are happy to be contacted by a BBC reporter.
SMS or WhatsApp: +44 7380 405603
The personal data you share with the BBC (age, gender, location, job and political affiliation) will be kept confidential by the BBC and will only be used for the purposes outlined above. Please only share your personal data if your are 18 years old or over. Your personal data will not be shared outside of the BBC. The BBC will retain your personal data for the duration of the election after which your personal data will be securely destroyed. By submitting your personal information you are consenting to the BBC to hold personal and sensitive personal information about you. For more information about how the BBC handles your data please go to http://www.bbc.co.uk/usingthebbc/privacy/privacy-policy